Sector NewswireTM
Sector: Mining - Metals and Minerals
Sub Sector: Precious Metals
News Release - December 5, 2007 5:34 AM ET
Soltera Mining Corp. White Paper Issued by Market Equities Research Group
NEW YORK, NY -- Market Equities Research Group has issued an equities research fact sheet on Soltera Mining Corp (OTCBB:SLTA) (Frankfurt:SN7).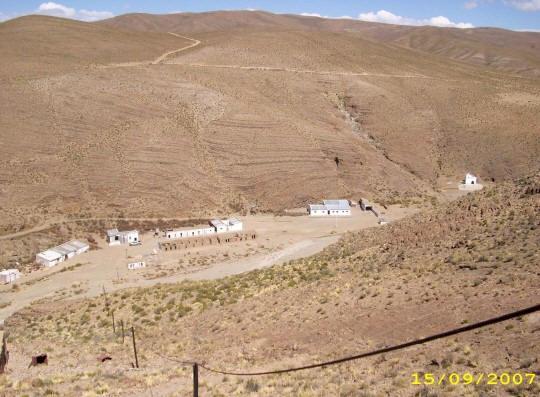 Image of Infrastructure on Soltera's El Torno mining concession: The benefit of infrastructure facilitates near term exploration plans and future development by Soltera. SLTA benefits from well established infrastructure on the El Torno Project with the area being accessible by road all year round, a gravity concentration plant on site, a guest-house with 6 bedrooms, 2 bathrooms and four other rooms, a warehouse with two electric generators, water pumps and other facilities. A nearby river offers an abundant supply of water to draw from.
The Market Equities Research White Paper may be viewed free of charge at:
www.MarketEquitiesResearch.com/report401.pdf
The report details how Soltera Mining Corp. has a HIGH PROBABILITY to multiply its market capitalization several times its current value due in part to the exceptional opportunity afforded the Company from their El Torno Project in Northern Argentina which contains a historically proven gold-rich quartz vein up to 14 km long and 14 m wide. Additionally, the calibre of technical leadership at Soltera's senior management level lends cause for the Company to be seen as a probable upside investment vehicle.
Click to Access Report [PDF]
Soltera possesses a highly qualified management team that is focused on the exploration of the Company's flagship El Torno gold mine project in Northern Argentina. Soltera's El Torno Project contains a historically proven gold-rich quartz vein up to 14 km long and 14 m wide that has been intermittently mined for centuries using primitive processes in spots but has yet to be properly mined using modem exploration techniques. The vein extends north-south, is sub-vertical, has more than 1,000 m of underground galleries and is accompanied in places by a stockwork system of small quartz and pyrite veins that can extend up to 300 m from the main vein. SLTA is debt free, has a current market cap of under a mere $22M, and appears to be an exceptional candidate for upside price valuation as Soltera's management team executes upon its plan to use modern exploration techniques that will allow for large scale extraction of gold from the area.
This release may contain forward-looking statements regarding future events that involve risk and uncertainties. Readers are cautioned that these forward-looking statements are only predictions and may differ materially from actual events or results. Reports herein are for information purposes and are not solicitations to buy or sell and of the securities mentioned. Readers are referred to the disclaimer and disclosure section at the bottom of the following URL:
www.MarketEquitiesResearch.com/report401.pdf.

SOURCE: Sector Newswire per: Market Equities Research Group www.MarketEquitiesResearch.com
editorial@SectorNewswire.com
Additional Disclaimer and Disclosure I Contact I Terms and Conditions I Copyright I Privacy Policy