Sector NewswireTM
Sector: Mining, Precious Metals, Industrial :
News Release - June 19, 2020 5:15 PM ET Editorial Release
NioBay Metals Provides Corporate Update, Advancing James Bay Niobium Project with Goal of Becoming 4th Nb Producer in the World
NEW YORK, NY, June 19, 2020 /Sector Newswire/ -- NioBay Metals Inc. (TSX-V: NBY) (US Listing: MDNNF) this week provided an update of activities related to the Company's James Bay Niobium Project, in addition to a corporate update. Copy of this release is provided below. Additionally, NioBay is the subject of a Mining MarketWatch Journal review. Full copy of the Mining Journal Review may be viewed at https://miningmarketwatch.net/nby.htm online, excerpt copy is also provided further below.
Excerpt copy of NioBay's June 16, 2020 news release:
NIOBAY METALS PROVIDES CORPORATE UPDATE
Montreal, June 16, 2020. NioBay Metals Inc. ("NioBay" or the "Company") (TSX-V: NBY) is pleased to provide an update of activities related to the Company's James Bay Niobium Project (the "Project"), in addition to a corporate update.
James Bay Niobium Project
Following the completion of the drill program (see press releases dated April 8, 2020 and May 21, 2020), Roscoe Postle Associates initiated work related to the Project's Mineral Resource Estimate update. The update is progressing as expected and is expected to be published next month.
SGS Lakefield ("SGS") completed the gravity tests on the composite sample. The results showed a mass pull of 40% to 43% using spirals with a niobium loss of only 4%. These initial results will have a positive impact on the Project's economics by reducing the estimated capital and operating costs. The flotation tests are now underway and the final results for all of SGS's testing will be published in Q3 2020.
G Mining Services ("G Mining") began working on the Project's Preliminary Economic Assessment ("PEA") in May 2020. The Company has requested that G Mining review three mining scenarios (underground mine with ramp access, open pit mine and a combination of open pit and underground). Assessing the three objectives will provide the Company with information to balance the economic benefit, the costs, jobs and community benefits along with the potential environmental and cultural impacts.
Paradox
On June 11, 2020, NioBay Metals announced an investor relations services agreement with Relations Publiques Paradox Inc. ("Paradox"), and the granting of 400,000 stock options. In accordance with the terms of the NioBay stock option plan, the exercise price of the options corresponded to the closing price of the common shares of NioBay on the TSX Venture Exchange (the "Exchange") eve of the signing of the service agreement with Paradox on June 8, 2020, or $0.29 per share. As specified in the press release of June 11, 2020, the terms of the agreement, including those of options, were subject to stock market approval. Following the filing of the required documents, the Exchange indicated to NioBay that the exercise price of the options granted to Paradox could not be lower than the closing price of NioBay's common shares on the eve of the press release, ie $0.40 per share.
NioBay therefore modified the agreement with Paradox and increased the exercise price of the options accordingly. The other terms of the agreement remain unchanged.
Qualified Person
This press release was verified and approved by Claude Dufresne, P. Eng., and Qualified Person as defined by NationaI Instrument 43-101. Mr. Dufresne is the President and CEO of NioBay.
ABOUT NIOBAY METALS INC.
NioBay Metals Inc. is a mining exploration company holding a 100% interest in the James Bay Niobium Project located 45 km south of Moosonee, in the James Bay Lowlands in Ontario. NioBay also holds a 72.5% interest in the Crevier niobium and tantalum project located in Quebec and a 47% direct participation in mineral titles situated in the Chibougamau and Normetal region, Quebec, under a joint venture agreement with SOQUEM.
CAUTIONARY STATEMENT
Certain statements contained in this press release constitute forward-looking information under the provisions of Canadian securities laws including statements about the Company's plans to increase its niobium resource and to complete a PEA. Such statements are necessarily based upon a number of beliefs, assumptions, and opinions of management on the date the statements are made and are subject to numerous risks and uncertainties that could cause actual results and future events to differ materially from those anticipated or projected. The Company undertakes no obligation to update these forward-looking statements in the event that management's beliefs, estimates or opinions, or other factors should change, except as required by law.
Neither the TSX Venture Exchange nor its Regulation Services Provider (as that term is defined in the policies of the TSX Venture Exchange) accept responsibility for the adequacy or accuracy of this release.
FOR MORE INFORMATION, CONTACT:
NioBay Metals Inc.
Claude Dufresne, P.Eng.
President & CEO
Tel.: 514 866-6500
Email: cdufresne@niobaymetals.com
www.niobaymetals.com
Paradox Public Relations
Tel: (514) 341-0408 or 1-866-460-0408
jfmeilleur@paradox-pr.ca
Renmark Financial Communications Inc.
Melanie Barbeau
Tel: (416) 644-2020 or (212) 812-7680
mbarbeau@renmarkfinancial.com
www.renmarkfinancial.com
Follow us on Twitter: https://mobile.twitter.com/NiobayMetals
LinkedIn: https://www.linkedin.com/company/niobay-metals-inc.?trk=biz-companies-cym
------ ------ ------ ------ ------ ------ ------ ------ ------
Excerpt copy of recent Mining MarketWatch Jounral review of NioBay Metals Inc.:
NioBay Metals Inc. (TSX-V: NBY) (US Listing: MDNNF) is focused on advancing its flagship 100%-owned James Bay Niobium project in Northern Ontario Canada. Niobium (Nb; atomic number 41) is a critical element, primarily used as an important additive/strengthener in the high-value steel making process. There are only three niobium producers globally (2 in Brazil, 1 in Canada), all privately held and highly profitable. NioBay Metals Inc. has an impressive niobium resource deposit at James Bay with earmarks of it becoming the fourth producer in the world. The Company is expected to have a Preliminary Economic Assessment (PEA) in hand this Q4-2020 demonstrating robust economics. Following the PEA look for the Company to derisk the project quickly; upgrade its resource to Measured in order to be suitable to conduct a Feasibility Study. Astute investors would do well to familiarize themselves and take a position now in NBY.V as once derisked NioBay will have a target on its back, it stands an excellent chance of being taken private, like the other 'cash-cow' producers in the niobium oligopoly space.
Using a Model of Implied Capital (MOIC -- what an interested party would pay once derisked) discounted to where the company sits today, we see the share price of NBY.V poised for upside revaluation, trading significantly higher in the near-term, as more people appreciate the developing opportunity. In-fact, we can confirm that John Kaiser, of Kaiser Research, has recently issued commentary on NBY.V to his paid readership; we can confirm from statements at venues such as the Metals Forum that a 5x to 10x rise in share price is in order, the NEV of NioBay is $1.4B, and look for NBY.V to trade at C$1.25 to C$2.17 per share as the reality of what NioBay possesses is better understood.
Figure 1. (above) - Drill core from NioBay's Winter-2020 drill program at the James Bay Niobium Project. Note the size of the pyrochlore, which is the mineral that contains the Niobium -- that is one of the reasons NioBay's recovery is exceptionally high (near-80%, which is superior to existing producers). NioBay has a very unique deposit in terms of the prevalence of copious amounts of coarse pyrochlore crystals.
NioBay's winter-2020 drill program has yielded quality results, confirming the continuation of a high-grade zone heading north, it also provided insight that will lead to improved economics in the approach for mining the deposit. The upcoming PEA is expected to consider various mine plans, including a hybrid scenario of an open pit south of the creek and underground for mineralization to the north. The deposit seems to be dipping to the north, so it will be more efficient to progress underground anyways.
The math on the James Bay Niobium Project is shaping up to be quite impressive: In the PEA, we believe NioBay will demonstrate costs on par with the highly profitable Niobec Mine (which has been in operation for ~43 years now and currently produces ~7,000 Nb tpa, representing ~8% of global supply), costs in the range of US$18 to $20/kg of Nb. With NioBay targeting an operation capable of producing 6,500 Nb tpa (6,500,000 kg Nb/annum, which is expected to represent ~5% global market share, seeing NioBay processing ~2.2Mt per year of rock), and with the sale price of Nb stable at ~US$40+/kg of Nb (stable even in rough times, since the price of niobium is not set by 'supply and demand', price is set by the largest producer of the oligopoly; CBMM which currently supplies ~80% of global supply), NioBay will be in a position to hit a serious home-run for shareholders, demonstrating an operation capable of throwing off positive cash-flow of US$100M to $150M per annum for at least a couple decades.
NioBay will be targeting its production output based on market share, it does not want to be more than 5% of the market so as to not disturb the market. NioBay will get its foot in the door without creating an issue with CBMM (the largest producer).
Currently NBY.V has ~52.2 million shares outstanding, and has a market cap of ~C$20 million. In total there are roughly 1,700 shareholders in NBY.V. ~40% of the shares are owned by insiders, with Osisko Gold Royalties owning a 20% stake in the Company. In the last private placement Osisko chipped-in to maintain its 20% share. NioBay Metals Inc. shares head office space with Osisko Gold Royalties in Montreal.
Below we look closer at the compelling opportunity NioBay Metals Inc. presents for investors.
------ ------ ------ ------ ------ ------ ------ ------ ------

Understanding the importance of Niobium
Stronger, lighter, tougher, more flexible, and more weldable steel: 90% of Nb produced is used to manufacture High-Strength Low-Alloy (HSLA) steels -- improving its properties; increases strength and toughness, increases corrosion resistance, and increases weldability. A small amount of niobium (~0.01%) in high-strength low-alloy steel dramatically increases strength by 35 to 40 megapascal. The increases in strength for steel lead to weight savings, reduced steel consumption, and a lower carbon footprint, which why niobium is often reference as a Green metal. Niobium plays an irreplaceable role in a host of industries; structural steel applications (e.g. high rise buildings, bridges), automotive industry applications (the integration of $10 worth of niobium in an automobile reduces its weight by 100 kilograms and increases its fuel efficiency by 5%), oil & gas industry infrastructure applications (e.g. pipelines and connections). See related 'Nb in HSLA' video here [running time 4 min. 25 sec.].

Other uses; ~10% of world Nb production, includes high performance alloys for aerospace industry and electricity generation (e.g. jet and land based turbines), and medical devices (eg. MRI and orthopedics).

Future applications: R&D is being performed on niobium usage in aluminum alloys and titanium alloys. There are potential use in creating more efficient particle accelerators, and of growing significance is how niobium oxides are playing an emerging role in the development of new functionalized materials and new solutions in energy storage (Note: Toshiba has developed a titanium niobium oxide (TNO) anode material that has double the lithium storage capacity by volume of the graphite-based anodes generally used in lithium-ion batteries -- see related synopsis from Toshiba regarding its Next-generation SCiB™ expected to come to market soon). Also see related 'Nb in advanced technologies' video here [running time 6 min. 45 sec.].
------ ------ ------ ------ ------ ------ ------ ------ ------
Niobium - Global Markets
+90% Niobium is used in High Value Steel.

The annual growth in the last 3 years has been +17%.

China's intensity usage of niobium is roughly half of what it for the EU and North America, however in terms of quantity China uses more.

China has no niobium, they like to control commodities -- so China ended up purchasing one mine in Brazil from Anglo American, paying USD$1.7B for the mine. As it sits now, there are no other niobium operations available for sale. Indirectly Chinese influence also bought the Canadian, Niobec producer too in 2014 for ~US$500M; via Aaron Regent with financial backing of the Singapore sovereign wealth fund Temasek Holdings and CEF Holdings Ltd., a Hong-Kong investment firm owned by billionaire Li Ka-shing's Cheung Kong Holdings Ltd. and Canadian Imperial Bank of Commerce.

There are only 3 producers in the world (2 in Brazil, 1 in Canada)...
Supply - only 3 producers
Figure 3a. (above) - The 3 suppliers that supply the global demand for Niobium. The size of the market for steel grade is approaching ~100,000t of Nb/annum, its close to a $4B market, not large, however what is unique is there are only 3 suppliers.
Figure 3b. (above) - Sales by Suppliers in 2019
Commentary on CBMM's global dominance and how it benefits the other two producers (and NioBay when it becomes a producer): CBMM in Brazil is a giant in proportion to the other two producers. CBMM controls the market (+80% supply of the global market) by virtue of its size, capabilities, and gargantuan +500Mt of established resource (and more if they need it). The price of niobium is whatever they say. The cost of niobium is negligible to steel producers in terms of the amount used and benefits derived, CBMM has for decades maintained a cordial relationship with industry and set a fair price for niobium, one which affords CBMM a handsome return, and by default the two other smaller producers have reaped rich margins too. CBMM could squash the other two producers in the market, but due to the unique market dynamics and its sheer dominance, CBMM would be foolish; if CBMM were to drop the price by just say US$5/kg., at 100,000 Nb tpa (the level NioBay forecasts CBMM sales to be at in 2026 when James Bay could potentially come online), it would cost CBMM half a billion $, something they are simply not going to do -- CBMM's loss would dwarf the benefit derived. Even in hard economic times (e.g. after the 2008 financial crisis), CBMM had no problem adjusting to market conditions as the swing supplier. In fact, the current President & CEO of NioBay Metals Inc., Claude Dufresne, was the person in charge of niobium sales for the Niobec Mine in Canada during the 2008 financial crisis, he was able to sell 100% of its product in 2008, 2009, and 2010 at stable prices. Even though demand globally dropped 40% at one point, the Canadian producer sold all throughout. CBMM didn't chase the market for sales volume, they just sold less and waited for the market to come back. CBMM has the ability to supply 100% of the world demand, they have been in this position for decades while the other two players nibbled at the crumbs. CBMM is so huge and profitable they will expand as the world demand requires. In reality, how it works is the purchasing managers want to secure supply from Canada first and use CBMM as the swing supplier, the purchasing manager does not want to use just one supplier and wants to support the little guy -- and that is the way it works. Having a 4th producer is not going to impact the big producer -- NioBay Metals' strategy is to be the smallest producer and no more than 5% of global demand.
Niobium Demand in 2009 vs 2019
Figure 4. (above) - Demand in 2009 vs 2019
Niobium Demand and Price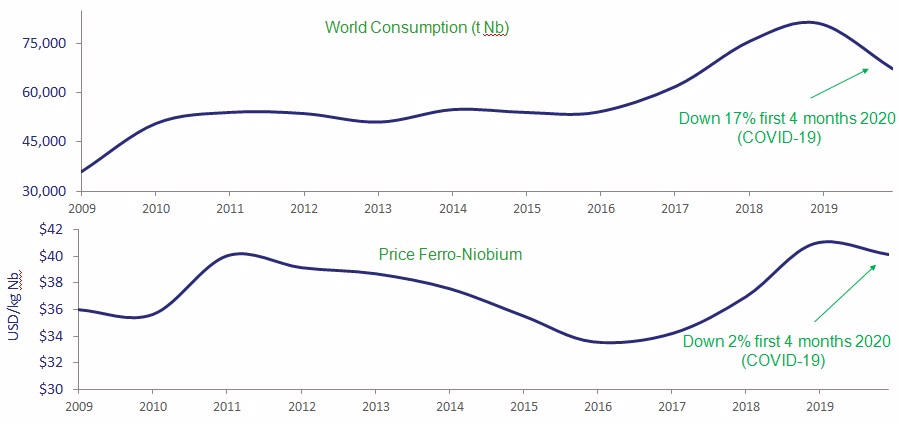 Figure 5. (above) - World Consumption over the last 11 years and price. Note that the price remains stable, between US$34 and US$42/kg for over 11 years, even when there is weakness in demand. CBMM knows it can't force demand with lower prices, so it rides out the waves as the swing supplier.
------ ------ ------ ------ ------ ------ ------ ------ ------
NioBay Metal's James Bay Niobium Project, Northern Ontario - 100% owned
The property comprises the Crown Mining Lease (# CLM11) and covers a total of 2,530 hectares.

Location
Figure 7. (above) - Location maps. The James Bay Niobium Project is located in Northern Ontario, ~40 km south of a small town called Moosonee, ~100 km north of Detour Gold, ~400 km east of the old Victor Mine (a DeBeers Diamond Mine that recently shut down). NioBay's James Bay Niobium Project is located outside of the watershed (significantly less challenging to develop from an environmental standpoint). The project is well situated near infrastructure and a stable workforce.

The Company has very favorable relationships with the local Moose Cree First Nations people; the recently elected Chief and counsel are all mining-friendly and development-friendly, a forced election last year was in-part to ensure stable business oriented leadership. The Moose Cree have previously signed IBA's with Detour Gold, and the old Victor Mine which had brought them compensation. The Moose Cree also own a 25% interest in a small power dam with Ontario Power Generation. NioBay has a community outreach and engagement program, NioBay has signed a Protection Agreement with the Moose Cree for drilling, and the Company has periodic update conferences to explain results and the next steps.
------ ------ ------ ------ ------ ------ ------ ------ ------
History
In June 2016, NioBay Metals Inc. acquired 100% of the property from Barrick Gold Inc., James Bay Columbium Ltd., and Goldcorp Inc.
When NioBay approached the previous owner, NioBay was the one that had to educate them as to the significance of what had previously been discovered on the property in the past, and essentially forgotten with time;
Discovered in 1966
14,000 meters of drilling at an average depth of 170 meters in 85 holes.

Historical estimate of 56M t @ 0.52% Nb2O5.

Exploration shaft (~40m ) & a 75m cross-cut.

225 t extracted for metallurgical testing (pilot plant).
Lakefield Research carried out metallurgical tests
Feasibility study was completed by Bechtel Canada in 1969.
NioBay Metals Inc. has access to all technical data and drill cores.
------ ------ ------ ------ ------ ------ ------ ------ ------

Mineral Resource

With access to the old core shack and technical data, NioBay Metals technical team relogged/assayed the old core, was issued an exploration permit in 2019, and was able to issue its own NI-43-101 Mineral Resource Estimate:
Table 1. (above) -- Classification of Mineral Resource Estimate on NioBay's James Bay Niobium Deposit.
*1) The combination of the Indicated & Inferred resource is not NI43-101 Compliant.
Mineralization is open at depth (> 275m).

Based on an underground operation.

A crown pillar is excluded from the resource (~6 Mt).

30m of overburden.
------ ------ ------ ------ ------ ------ ------ ------ ------
The following is a conceptual underground mine plan of the deposit from a 2019 scoping study
Figure 8. Scoping study image from 2019. A PEA is expected to be delivered in Q4-2020 with various mining scenarios, including a lower capex and lower opex hybrid open pit (south of the creek) with underground (dipping to the north). Capex to begin an operation under an underground scenario would be in the neighborhood of CDN$375 million - $400 million, less if open-pit scenario is pursued. Once the project is derisked to Feasibility, there are lots of entities that would be interested in the steady cash flow this operation would generate -- we believe private capital will take this to its full potential.
3D Image of deposit
Figure 9. (above) -- 3D View James Bay Niobium Deposit
------ ------ ------ ------ ------ ------ ------ ------ ------
2020 Winter Drill Program
3090 m in 7 holes.

High-grade core extension, raking north.

Width is expanding toward north.

Open at depth (below 330m).

Only drilled 3 sections out of 14.

All holes intersected significant mineralization.

All intersections above 0.56% Nb2O5.

High potential to extend resource.
Surface View of Deposit
Figure 10. (above) -- Surface view of NioBay's James Bay Niobium deposit. The three black lines seen in the image (from left/south, to right/north) are sections 200, 400, and 600, which were subjects of the winter 2020 drill program. You can see the deposit starts to split, and the split seems to get wider as you move north, now if you compare the sections to their respective cross sections below, the gap between between mineralization and the surface is visible and progresses as the sections moves north -- the important thing is the deposit is richly mineralized further below and also much wider on sections 400 and 600. It is believed to be the case that if NioBay continues to drill on section 800 and 1,000 it could well be the case the mineralization continues -- this will increase the resource. Currently NioBay is just at ~300m depth. Also visible in the surface view image (above) is the outline of the creek that cuts through the deposit -- as stated previously, the upcoming PEA is expected to have a hybrid mining scenario that sees an open pit on the shallower south and heading underground before reaching the creek.
Section 200 - Winter 2020 drill program
Figure 11. (above) - Section 200 winter drill program.
Section 400 - Winter 2020 drill program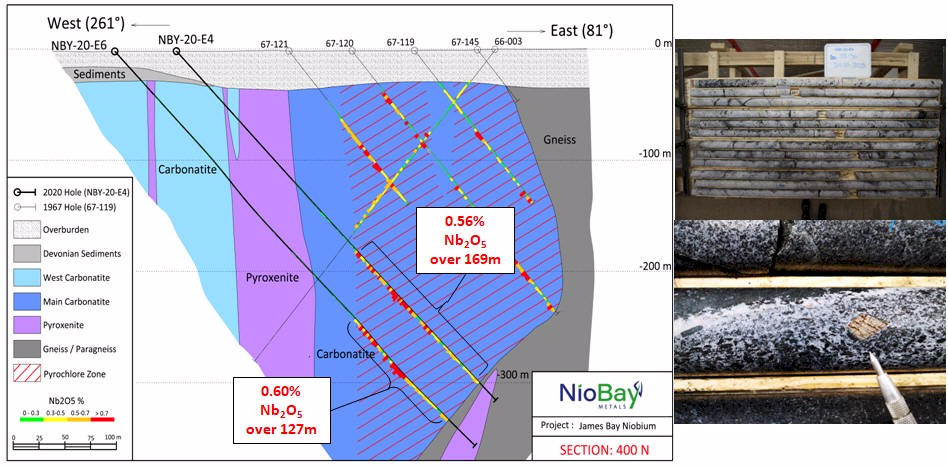 Figure 12. (above) - Section 400 winter drill program 2020.
Section 600 - Winter drill program 2020
Figure 13. (above) - Section 600 winter drill program 2020. If allowed to put gold equivalent, that 246m intersect of 0.57% Nb2O5 would equate to ~3.5 g/t Gold.
------ ------ ------ ------ ------ ------ ------ ------ ------
A look at how a NioBay's James Bay compares to the Niobec
Figure 14. (above) - Comparison of Niobec (in blue) to NioBay's James Bay (in red). What really makes the big difference is the superior recovery rate for NioBay of 78% to 80%, compare that to Niobec which is ~65%. In the 60s NioBay's James Bay deposit had a bulk sample run at Lakefield and achieved 78% to 80% recovery rate with extremely good quality concentrate. Although NioBay's grade is ~10% lower -- the formula is always GRADE X RECOVERY making NioBay's ratio ~10% higher than Niobec's mine. Plus consider NioBay will may pursue an open pit initially, and it will be near surface. NioBay is more remote than Niobec, and will have to bring its concentrate off to the nearby town of Moosonee then off to the train, thus additional cost there. Overall it appears NioBay should have about the same costs as Niobec. Niobec's costs are US$18 - $20 per kg Nb.
------ ------ ------ ------ ------ ------ ------ ------ ------
NioBay Metals' Strategy
NioBay Metals' strategy is to be the smallest producer and no more than 5% of global demand. This strategy allows Niobay to comfortably exist with the other two smaller producers and remain insignificant to CBMM.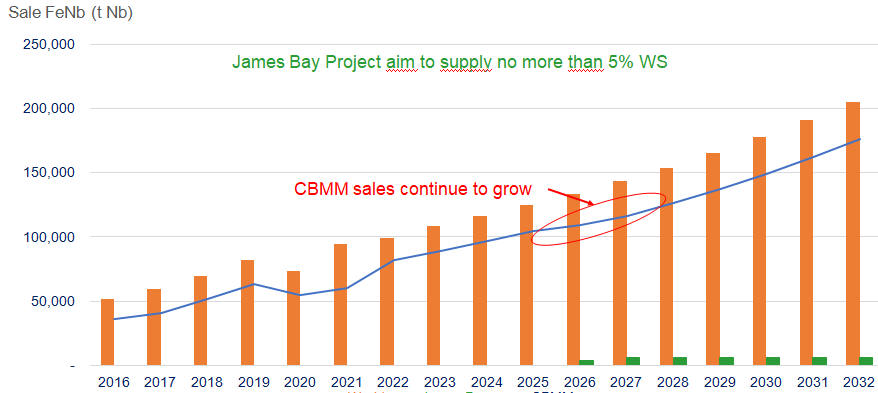 Figure 15. (above) - Forecast chart of CBMM sales growth line (seen in blue) relative to NioBay coming online in 2026 (seen in green) -- NioBay registers as a minor non threatening blip on the radar.
Figure 16. (above) - CBMM (in blue) relative to NioBay's James Bay Niobium Project at 5% of market share (in green). By having a strategy of representing 5% of the global market, over time NioBay can step-up its production output as global sales volume rises, and still remain at 5%.
------ ------ ------ ------ ------ ------ ------- ------ ------
Full copy of the Mining Journal Review may be viewed at https://miningmarketwatch.net/nby.htm online.
This release may contain forward-looking statements regarding future events that involve risk and uncertainties. Readers are cautioned that these forward-looking statements are only predictions and may differ materially from actual events or results. Articles, excerpts, commentary and reviews herein are for information purposes and are not solicitations to buy or sell any of the securities mentioned. Readers are referred to the terms of use, disclaimer and disclosure located at the above referenced URL(s).
SOURCE: Sector Newswire editorial
Additional Disclaimer and Disclosure I Contact I Terms and Conditions I Copyright I Privacy Policy