Sector NewswireTM
Sector: Mining, Precious Metals :
News Release - January 7, 2022 4:33 PM ET - Editorial Release
Puma Exploration Raises $922,200 in Non-Brokered Private Placement, Shares Its 2022 Exploration Strategy, Dr. Quinton Hennigh provides insight as 10,000 m Drill Program to Start in January 2022
NEW YORK, NY, January 7, 2022 /Sector Newswire/ -- Puma Exploration Inc. (TSX-V: PUMA) (US Listing: PUXPF) (Frankfurt: 4P8A) last week announce that, further to the closing of its brokered C$5M private placement announced on December 17, 2021, it has closed a non-brokered private placement ("the Offering") of hard dollar units (the "Units") for total gross proceeds of C$922,200 (click here for related December 30, 2021 news release copy).
Last weeks news falls on the heels of Puma Exploration sharing its fully-funded exploration strategy and program for 2022 (copy of the December 21, 2021 news release may be viewed further below in this editorial release).
------ ------ ------ ------ ------ ------ ------ ------ ------
Puma Exploration Subject of Noteworthy Endorsement from Dr. Quinton Hennigh as Puma Continues to Identify More Large Quartz Veins at Surface with Visible Gold, and Continues to Encounter High-Grades on an Extensive Patchworks of Veins to be Drilled Starting in January-2022 on Its Williams Brook Gold Property, Atlantic Canada
QUOTE "…it's an interesting system because it reminds me of a certain deposit in Australia called Stawell that ended up being I think about ~5 million ounce gold deposit, but it was really subtle, everyone had to be patient –- figure out the geometry. But I think this thing is going to prove to be a significant discovery over the course of the next year or two. So put that on the list."
- Dr. Hennigh Dec. 10, 2021

Quinton Hennigh, PhD: Dr. Hennigh is an exploration geologist that has identified many of the best next generation mining assets on the planet that are still in hands of junior exploration companies today and is an advisor to Crescat Capital LLC, which took a position in PUMA.V in August-2021 after his recommendation.

Click here to go to the 1:10:28 mark of December 10, 2021 video where Dr. Hennigh discusses the exciting progress Puma Exploration is making:
The following image is from drone photography showing the current excavation program at the Chubby-Moose Area: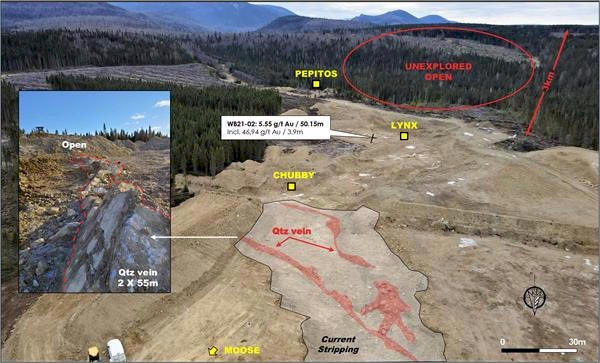 In the video Dr. Hennigh humorously notes how it appears the entire deposit will be entirely ready for mining when it comes time because Puma has pre-stripped everything off the top. He notes how every time Puma opens up new trenches they find new veins and very high-grade samples. In every news release you see a steady progression.
------ ------ ------ ------ ------ ------ ------ ------ ------
Below is copy of Puma's December 21, 2021 news release regarding its 2022 exploration strategy, followed by excerpt copy of a recent Mining Journal article.
Excerpt copy of December 21, 2021 news release:
Puma Exploration Shares Its 2022 Exploration Strategy
Rimouski, December 21, 2021 – Puma Exploration Inc. (TSXV: PUMA, OTC: PUXP) (the "Company" or "Puma") is pleased to share its fully-funded exploration strategy and program for 2022. The Company successfully closed on December 17, 2021, a brokered private placement for total gross proceeds of C$5,000,000.

Figure 1: 2022 Exploration strategy and planned programs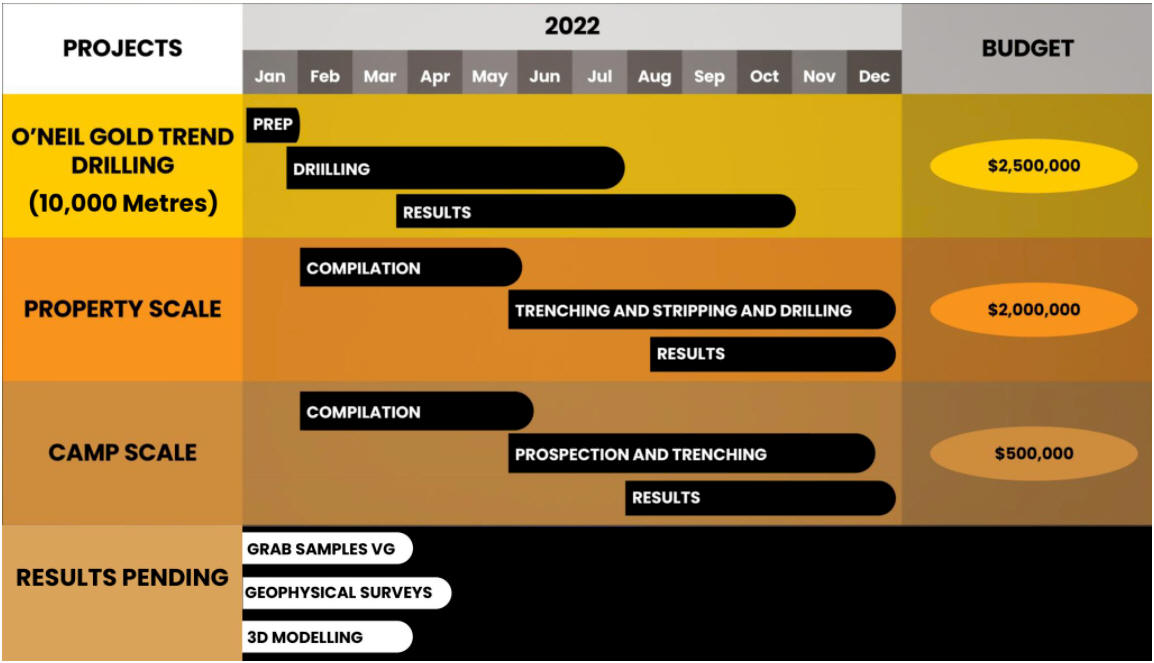 The 2022 exploration program will strategically target three (3) project areas, each with specific tasks and objectives (see figure 1). The program may be adjusted as the assay results from over 750 samples collected during the Fall 2021 surface exploration program, including the surface grab samples with visible gold ("VG") collected in the Chubby-Moose area, are received in the coming weeks.

The final interpretation of the VTEM, MAG and Radiometric heliborne detailed surveys, drilling and mapping data, and the compilation of a new 3D geological model will further guide the 2022 exploration program.

O'NEIL GOLD TREND DRILLING PROGRAM

Puma's priority for 2022 is launching a 10,000 metres drilling program in January 2022 that will target the O'Neil Gold trend (OGT). Trenching, stripping and drilling at the OGT in 2021confirmed continuous gold mineralization for over 750 metres with locally, very high-grade gold content. The initial 2022 drilling program will target three main areas of the OGT (see figure 2).

Figure 2: First Priority target areas of the O'Neil Gold Trend to be drilled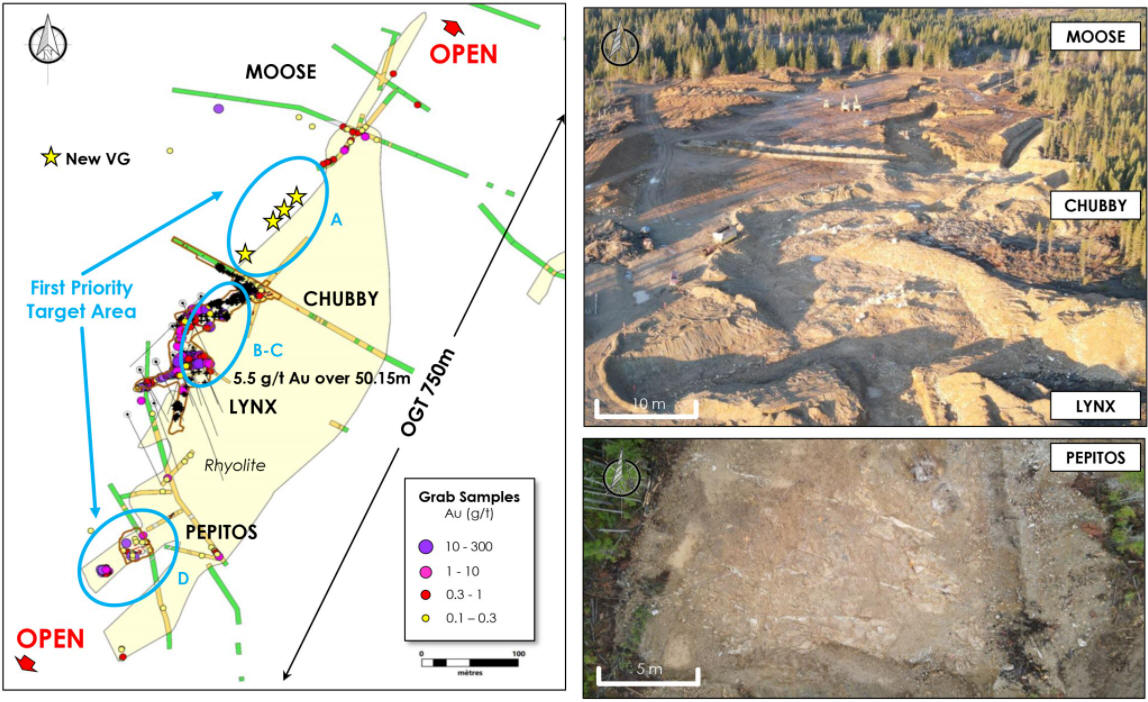 The first three (3) priority areas include:

A) The newly discovered quartz veins system with visible gold (VG) located between the Chubby and Moose gold zones (see December 8, 2021, News Release);

B) The area west of holes WB21-16 and WB21-17 where grab samples with VG were collected this fall;

C) The western extent of hole WB21-02 where 5.50 g/t Au over 50.15 m was intersected; and

D) the Petitos-O'Neil gold zones located at the southern end of the OGT

WILLIAMS BROOK PROPERTY-SCALE EXPLORATION PROGRAM

Following current interpretation and modelization, the summer 2022 exploration program will include property-scale exploration targeting the most prospective areas identified by the 2021 exploration programs and surveys. Property-scale, VTEM, Mag, and Radiometric surveys over the entire Williams Brook Property (see figure 3) in addition to surface exploration and highlighted several prospective areas within the 20,000 hectares land package.

Figure 3: First Priority target areas over the entire Williams Brook property
During the first quarter of 2022, Puma will generate more advanced exploration targets, including trenching and stripping (see figure 3). To date, three (3) priority areas have been identified:
the entire 7 km length of the O'Neil Gold trend;

the Williams 1 and Williams 2 gold trends; and,

the Ramsay Brook area.
The objective of the summer exploration program at the property-scale will be to identify promising targets for an additional fully-funded 5,000 metres drilling program to be launched in the fall.

WILLIAMS BROOK CAMP-SCALE EXPLORATION PROGRAM

Following the current compilation work of Puma's entire landholdings, the Company will launch a Camp-Scale Exploration program (see figure 4) in the summer of 2022 to cover the Williams Brook South, Jonpol and the Portage properties. The regional surface exploration program will include prospecting, mapping and trenching. The targets will be generated from the regional detailed heliborne geophysical survey done in 2021, the compilation of soil anomalies and the knowledge acquired over the last two years modelling the O'Neil Gold Trend discovery.

Figure 4: Camp-Scale exploration to be conducted in 2022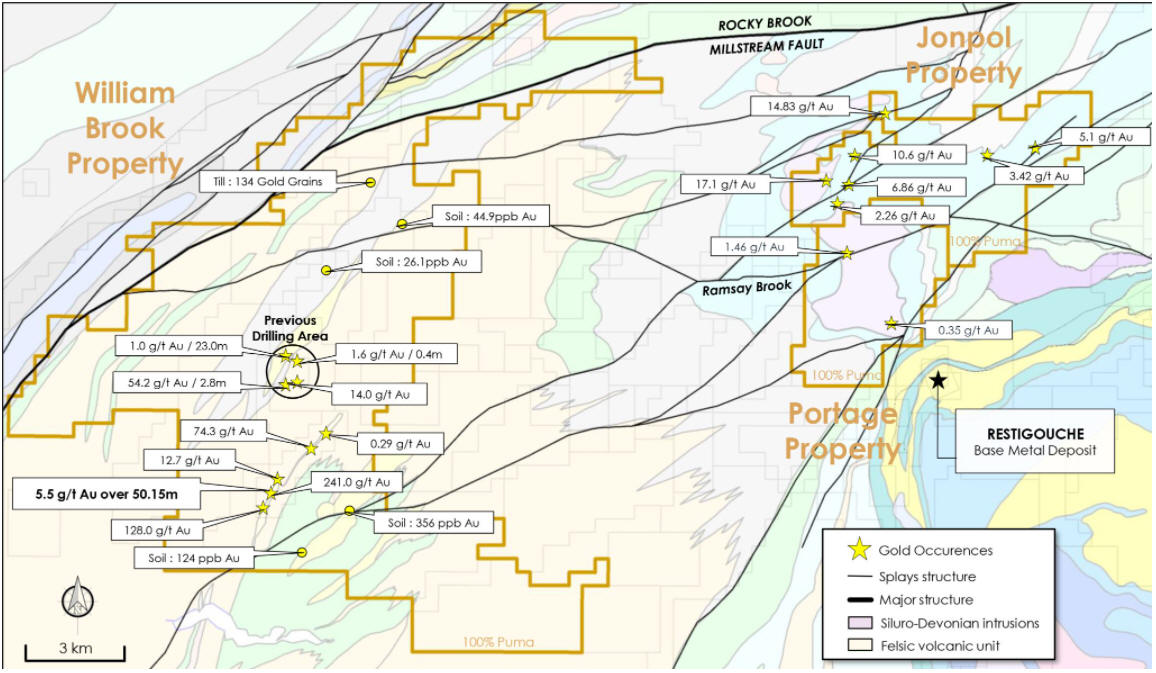 10% of the current $5M exploration budget is allocated to camp-scale exploration. The main objective of this program is to locate the next gold trend on those properties for the 2023 exploration program.

The proposed programs and exploration plans are based on current information and strategy and may change without notice following new results, acquisitions or developments. The Company will keep shareholders informed with regular new releases and communication.

QUALIFIED PERSON

Dominique Gagné, PGeo, a qualified person as defined by Canadian National Instrument 43-101 standards, has reviewed and approved the geological information reported in this news release.

ABOUT PUMA EXPLORATION
Puma Exploration is a Canadian-based gold exploration company with early-stage precious metals projects in the Famous Bathurst Mining Camp (BMC) in New Brunswick, Canada. The Company is committed to its DEAR strategy (Development, Exploration, Acquisition and Royalties) to generate maximum value for shareholders with low share-dilution.

Connect with us on Facebook / Twitter / LinkedIn
Visit www.explorationpuma.com for more information or contact:

Marcel Robillard, President, (418) 750-8510; president@explorationpuma.com

Mia Boiridy, Head of Investor Relations and Corporate Development, (250) 575-3305; mboiridy@explorationpuma.com

Neither TSX Venture Exchange nor its Regulation Services Provider (as that term is defined in the policies of the TSX Venture Exchange) accepts responsibility for the adequacy or accuracy of this release.

Forward-Looking Statements: This press release may contain forward-looking statements. Such forward-looking statements involve a number of known and unknown risks, uncertainties and other factors which may cause the actual results, performance or achievements of Puma to be materially different from actual future results and achievements expressed or implied by such forward-looking statements. Readers are cautioned not to place undue reliance on these forward-looking statements which speak only as of the date the statements were made, except as required by law. Puma undertakes no obligation to publicly update or revise any forward-looking statements. These risks and uncertainties are described in the quarterly and annual reports and in the documents submitted to the securities administration.
.
CLICK HERE for full copy from source
------ ------ ------ ------ ------ ------ ------ ------ ------
Puma Exploration is also the subject of a Mining MarketWatch Journal review, full copy of which may be viewed at https://miningmarketwatch.net/puma.htm online in an article entitled "Puma Exploration Presents Opportunity; 5.55 g/t Gold over 50 m Discovery Hole -- Building Ounces in New Brunswick".

Excerpt copy of recent Mining MarketWatch Journal:
Puma Exploration Presents Opportunity; 5.55 g/t Gold over 50 m Discovery Hole -- Building Ounces in New Brunswick
Puma Exploration Inc. (TSX-V: PUMA) (US Listing: PUXPF) (Frankfurt: 4P8A) is a Canadian-based mineral exploration company focused on advancing its Williams Brook Gold Property in New Brunswick, located in the same prolific geological setting as major Atlantic success stories such as Marathon Gold and Newfound Gold. Since acquiring the project in March-2020, Puma has quickly gone from virgin/grassroots ground (finding anomalous sampling in the woods) to clearing, trenching and stripping clean to expose large swaths of a 700 m long patchwork of gold laden rhyolitic bedrock (named the O'Neil Gold Trend) proximal a contact zone that runs even much longer within its claim boundaries. Puma will be resuming a drill program in January 2022; with plans to drill 10,000 m where quartz veining surface samples have yielded high-grades. To date Puma has drilled 2,360 meters (18 holes). Discovery hole WB21-02, announced this September 2021, cut 5.55 g/t Au over 50.15 meters from surface, including 9.88 g/t Au over 8.60 meters and 46.94 g/t Au over 3.85 meters. The first drill holes reported show there is solid correlation between surface samples and core, presenting tremendous opportunity for investors looking to be part of a story in its early days. Puma's structural model at O'Neil Gold Trend is that of a ~N260 oriented high-grade gold bearing quartz veins network open on both side and at depth. The continued discovery of high-grade gold veins at surface bodes well for Puma's future prospects at the Williams Brook Gold Property; e.g. see...
● Dec. 8, 2021 Puma Exploration Discovers Large Quartz Veins at Surface With Visible Gold,
● Nov. 17, 2021 Puma Extends Mineralised Zone With High-Grade Samples up to 46,8 g/t Au (discovering 9 new gold bearing quartz veins, described as a "swarm of 1-5 meters thick quartz veins and veinlets extending 275 meters northeast of the Lynx Gold Zone"),
● Nov. 4, 2021 New Visible Gold-Bearing Zone,
● Oct. 14, 2021 More High-Grade Gold Veins with up to 199 g/t* Au from Surface Sampling.
The second round of drill results (holes 6 - 12 announced October 21, 2021) extended the gold mineralised zone beyond the rhyolite into the sediments. The third round of drill results (holes 13 - 18 announced November 11, 2021) yielded 5.11 g/t Au over 8.35 Meters within a Broader Zone Grading 0.82 g/t Au over 78.75 Meters. The prevalence of high-grade surface sampling on the O'Neil Gold Trend identified to date, coupled with the results from the first 18 drill holes, outlines what independent outside observers such as Dr. Quinton Hennigh are describing now as "almost the size of an opencast mine at this point". Dr. Hennigh believes Williams Brook is going to prove to be a significant discovery over the course of the next year or two and sees similarities to other highly successful deposits he has encountered in his career that have gone on to be many millions of ounces.

PUMA.V currently has a nominal market cap of ~C$40M (~99 million shares trading near ~C$0.40 -- this figure includes the new $5M private placement & $922k Private Placement). The share price of PUMA.V is apt to appreciate from the current trading price as continued news flow occurs, and as the significance of what Puma Exploration possesses is better appreciated by the market.
------ ------ ------ ------ ------ ------ ------ ------ ------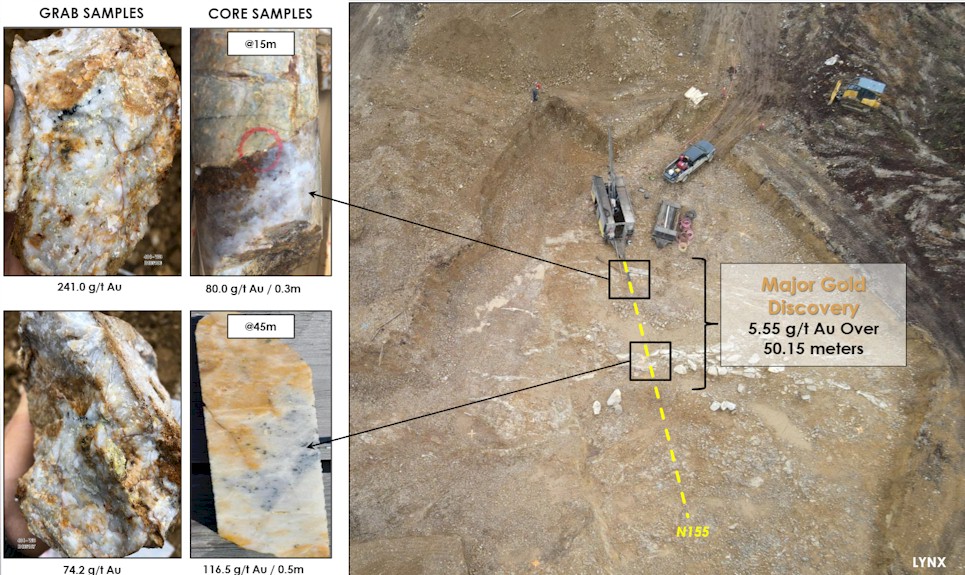 Figure 1. (above) -- Lynx Zone Discovery Hole on O'Neil Gold Trend at Williams Brook Gold Project (5.55 g/t Au over 50.15 meters from surface, including 9.88 g/t Au over 8.60 meters and 46.94 g/t Au over 3.85 meters.); on the right is a trench photo with clean bedrock and the drill positioned, the drill hole path (subsurface) is annotated in yellow. The grab samples on the left correspond to what was found on surface and next to that image is the drill core that was unearthed below -- there is an excellent correlation which bodes well for the exploration model going forward.
------ ------ ------ ------ ------ ------ ------ ------ ------
Aside -- Additionally important time-sensitive note:
Investors in PUMA.V now will be the beneficiary of a dividend spin-off of the company's copper assets; Puma was recently able to acquire some of the most prospective gold exploration ground in New Brunswick due in-part to its unique insight from having a 15 year history in the Bathurst camp of New Brunswick as a base metal exploration company. With the focus now on gold, the company will be spinning-off its copper assets, see related July 6, 2021 news "Creation of a New Active Player for Copper Exploration and Development in New Brunswick, Canada"; essentially PUMA.V is selling all its base metal projects for $3.5 million into a new shell (Melius Capital 3 Corp.). Puma's technical team will continue to do the work, have representation on the BOD, and also shareholders of record of PUMA (date still to be set, but expected imminently) will receive a dividend of the new spin-off. The $3.5M is payable by the issuance of an initial 12M Melius shares of which up-to 6M will be distributed to Puma's shareholders in Q1-2022 . The remaining $2.3M is payable in cash or in Melius shares over a period of 3 years. See related November 25, 2021 copper spin-out news "Puma Exploration Updates on Copper Transaction With Melius Metals". The Chester Property will be the flagship with an established resource from 2014 that appears ready for sizeable upgrade.
------ ------ ------ ------ ------ ------ ------ ------ ------
# #
This release may contain forward-looking statements regarding future events that involve risk and uncertainties. Readers are cautioned that these forward-looking statements are only predictions and may differ materially from actual events or results. Articles, excerpts, commentary and reviews herein are for information purposes and are not solicitations to buy or sell any of the securities mentioned. Readers are referred to the terms of use, disclaimer and disclosure located at the above referenced URL(s).
SOURCE: Sector Newswire editorial
Additional Disclaimer and Disclosure I Contact I Terms and Conditions I Copyright I Privacy Policy