Valuation Commentary: MacDonald Mines Exploration Ltd. (TSX-V: BMK) (US Listing: MCDMF) (Frankfurt: 3M72) is advancing a near-term mining production scenario at its Wawa-Holdsworth Gold Project located 25 km NE of Wawa Ontario, Canada, uniquely positioned proximal Argonaut's >6Moz Au Magino deposit property, and Richmont's >1Moz Au Island Gold Mine (along an underexplored extension of the prolific Michipicoten Greenstone Belt). The risk-reward characteristics are highly advantageous for investors establishing a long position in BMK.V as the current market cap (~$7.2M Canadian, trading at ~10 cents/share) relative to the inherent value of MacDonald Mines' Wawa-Holdsworth Gold Property appears disproportionate; near-term share price catalysts exist as the Company is aggressively exploring to build on known gold values, leveraging its exploration teams expertise and experience in the Wawa district gold camp, and preparing for large-scale bulk sampling of the projects gold-laden Oxide Sands.
Oxide Sand resource estimation
The Company is currently awaiting the balance of assay results for 401 holes drilled during its 2,000 m sonic drilling program. Once results are made available, the Company will initiate a NI43-101 inferred resource estimation for the Oxide Sands.
------ ------ ------ ------ ------ -------
DECEMBER 5, 2017 NEWS HEADLINES:
MacDonald Mines Received First Results from Sonic Drill Program of Oxide Sands; Drills 7.92 g/t Gold over 3.23 Metres ...click here to view
The first drill results from MacDonald Mines' 2000m sonic drill program on the oxide sands were released on December 5, 2017 and they are spectacular, affirming the geological model the Company is working under.
------ ------ ------ ------ ------ -------
Fig. 1 Location Map of MacDonald Mines' Wawa-Holdsworth Gold Project - Within a few km of impressive gold deposits of miners whose deposits keep growing, and mills. There is road access to the property, it is close to power, rail, and a stable workforce, in a mining-friendly region.
The Wawa-Holdsworth project is proximal to the crustal-scale Wawa–Hawk Lake–Manitowik Lake Fault and encompass a 500 metre-wide deformation zone where gold was concentrated in different structures. These includes the Pyrite Zones, source of the gold-bearing Oxide Sands, the Soocana Vein System and the Golden Goose Shear Zone.
Fig. 2 (below) Black Sands of Wawa-Holdsworth Property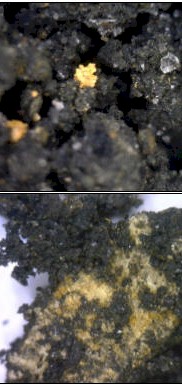 Oxide Sand Zones offer a quick pathway to cash flow:
Voluminous gold-bearing oxide sand (black sand) zones near surface have demonstrated potential for an immediate pathway to production/cash flow; e.g. 3.45 g/t gold and 29.99 g/t silver average grade from a composite of 23 panels, with preliminary metallurgical testing resulting in between 69% and 98.7% gold recoveries (without even crushing). Recent sampling by BMK.V has demonstrated >200% better results; see August 30, 2017 release "MacDonald Mines Receives Final Precious Metal Assays on Trenching of Oxide Sands, Wawa-Holdsworth Gold Project", and May 16, 2017 release "MacDonald Mines assays of the Oxide Sands results in significant increase in Gold content - individual samples contain up to 6 g/t Gold"; yielding an average grade of 2.95 g/t gold in one sample zone (section A) and 5.45 g/t gold in another (section BE) of the Oxide Sands.Mettallurgy was re-affirmed on July 11, 2017 (click here for the related news release) Highlights from preliminary test work on the Oxide Sands include:
- The concentration ratio of gold in rougher flotation averaged 6.0:1
- The concentration ratio of silver in rougher flotation averaged 5.2:1
- Reduction of feed volume in rougher flotation by approximately 85-90%
- The Oxide Sands can be processed by a simple crushing/flotation process
- No caustic treatments are necessary
- The processing will require low power requirements
- The waste material is inert (>70 percent silica/quartz)
Oxide Sands host Gold-Silver-Platinum-Palladium
A bulk composite sample of the Oxide Sands composed of 4 different locations returned 0.15 g/t platinum, and 0.36 g/t palladium, in addition to the average grade of 5.45 g/t gold. 2 kg oxide sand samples contain up to 59.8 g/t silver; see related June 29, 2017 release entitled "Golden Goose Discovery Returns 11.85 g/t Gold from Grab Sample and Oxide Sands Found to Contain High-Grade Platinum, Palladium and Silver"
The exploration team is now undertaking a program of quantifying these zones which were historically ignored for gold but characterized in the early-1900's as one of the best massive sulphide deposits in the country. There is the possibility of a 2.2 km strike length of gold laden Oxide Sands Zones over the auriferous iron formation (which acted as a trap for gold circulating in the system).
Company intends to extract 50,000+ oz Gold from oxide sands: The Company announced 100% ownership of the Wawa-Holdsworth Gold Project with terms that point to an imminent production scenario; aside from 5.5 million shares of BMK.V issued (along with equal warrants exercisable at $0.30 -- something we like to see as the belief is share price of BMK.V will rise substantially) and a partially repurchasable 1.5%NSR, the bulk of the principle consists of MacDonald Mines making a quarterly gold payment to Noble equal to ten percent (10%) of the amount which is obtained by: (i) multiplying the production of gold from the Oxide Sands by the average gold price received during the quarter; and (ii) subtracting the sum of all deductions and any capital and operating costs being amortized over the life of the project, up to a maximum aggregate payment of 5,000 ounces of gold.