Interview with Roger Rosmus, Founder and CEO of Goliath Resources Limited a Veteran Investment Banker, Focused in the Prolific Golden Triangle and Surrounding Area of Northwestern British Columbia

By Dr. Allen Alper, PhD Economic Geology and Petrology, Columbia University, NYC, US
on 6/26/2018

Goliath Resources Limited (TSX-V: GOT, Frankfurt: B4IE) is a project generator of precious metals projects, focused in the prolific Golden Triangle and surrounding area of northwestern British Columbia. It controls 100% of four highly prospective properties that include Bingo, Golddigger, Lucky Strike and Copperhead, covering over 44,000 hectares. All four properties have brand new discoveries, never drilled before, that all have returned anomalous gold, silver and/or copper in soils, grab and channel samples from exposed bedrock at surface over large areas. We learned from Roger Rosmus, Founder and CEO of Goliath Resources Limited, a veteran investment banker, that as project generator, they are looking for projects that are elephant size, that are new and that will tick all the boxes for any senior mining company to do a joint venture, a strategic investment, or a potential takeout. Their new discoveries are the product of glacial recession and permanent snowpack melting due to the recent climate change resulting in widespread hybrid mineralization at surface over large areas seen for the first time; truly a once in a life time event. The main focus, in 2018, includes drilling of brand new discoveries at their Lucky Strike and Copperhead projects.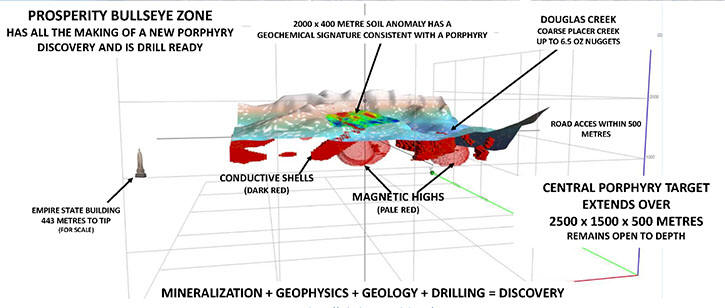 Dr. Allen Alper: This is Dr. Allen Alper, Editor-in-Chief of Metals News, interviewing Roger Rosmus, the Founder and CEO of Goliath Resources. Could you give our readers/investors an overview of yourself, your company, your focus and current activities?

Roger Rosmus: I've been in the investment banking world for over 25 years, primarily raising capital for private and public companies, many have been in the resource sector. When I saw this package of assets, I literally fell off my chair, in awe, because this is a once in a life time opportunity. I've never seen anything so spectacular as these four projects in my entire career that also have similarities to GT Gold Corp. (TSX-V: GTT) and Garibaldi Resources Corp. (TSX-V: GGI) projects before they drilled.

After the company was incorporated, we raised 2.2 million dollars and completed a RTO transaction in October of 2017. We are currently trading on the TSX venture, under the symbol GOT, and more recently, we listed on a Frankfurt, the ticker being B4IE. With the 2.2 million raised, we took options on four projects in the golden triangle and surrounding area from the J2 Syndicate, a private company and precious metals project generator. Golddigger and Bingo projects are within the triangle, and we have two projects, just south of there, around Terrace & Smithers, BC, which are Lucky Strike and Copperhead.

In addition to taking the four property options, we also acquired a 10 percent interest in a private syndicate called DSM, which staked six projects far south of Terrace. Goliath will receive 10 percent of all the economics in relation to any deals on these projects, that could potential provide non-dilutive cash flow for the company down the road.

Our business model is purely a project generator of precious metal projects that are new discoveries and elephant size. We are looking for new large projects in the right geological setting that will tick all the boxes for any senior mining company to do a potential joint venture, strategic investment, or a potential takeout. If they don't tick all the boxes, we're not going to waste our time on it. As we all know, grass roots exploration is a high-risk business, and we'll do anything to help mitigate some of these risks. We're looking for new discoveries that are highly mineralized, large and obvious, which we have found at all four projects. Attracting a senior partner increases the probability of success and getting a material project across the line. We do believe that there is the potential to have one or even two significant discoveries this year. The first being our massive Prosperity Bullseye Gold-Copper-Moly porphyry drill target at Lucky Strike and our large area of volcanic breccia outcrop that has widespread mineralization of Copper-Silver exposed at surface at Copperhead.

Bill Chornobay is our project generator, program manager and corporate development consultant. He is the one that had the vision to assemble all our projects and who has had great success using this business model described. He also has a highly experienced exploration team around him. His past track record includes discovering the Golden Mile in Ontario, which was rolled into Prodigy and bought out by Argonaut for about 320 million a while back. He was the one that originally staked the Coffee Creek assets up in the Yukon, specifically the "Supremo Zone", which became the base for that asset for Kaminak. Goldcorp recently bought Kaminak for about 520 million. More recently, Bill generated and discovered the Plateau South project, up in the Yukon, which is in Gold Strike Resources. He recently inked a 53 million dollar joint venture with Newmont Mining Corporation.

The depth of Bill's exploration team is immense, and they clearly know what they're looking for when they're out in the field. Goliath is extremely lucky to have Bill and his team, otherwise this company would not exist today.

What we are all seeing, for the first time, on all four projects is widespread mineralization of high grade Gold, Silver and/Copper over large areas. This is all due to the recent climate change. Glaciers have pretty much melted in the area, and more importantly the permanent snowpack is no longer there; a once in a lifetime event. These are all brand new discoveries, never been drilled, or rehashes of old projects. We're very excited to be drilling two of them in 2018. When we finished up our 2017 exploration season, there was a lot of data reported in our news releases. There's quite a bit of material, so for the readers I'll focus on what I believe will materially move the needle for us this year in relation to our share price substantially increasing in 2018 that could be similar to what happened to GT Gold and/or Garibaldi Resources share prices in 2017 after they drilled into their new discoveries. I believe drilling and validating our targets at Lucky Strike and Copperhead could quite easily emulate a GT Gold and/or a Garibaldi type of share price increase and stock chart they had in 2017 post discovery. The Golddigger and Bingo projects will have work completed on them to develop 2019 drill targets. Recently we mobilized our geophysical team and work is ongoing completing additional surveys.
.
There is historical production of over 13,000 ounces of gold from the placer creeks, of which over six-ounce nuggets have been reported. We completed a SkyTEM survey in early 2017, and we found very highly conductive zones, flanking magnetic highs, so this is essentially a classic text book porphyry signature extending over an area of 2500 x 1500 x 500 metres and remains open at depth. In addition to this target, we completed a detailed soil grid, on top of the geophysical signature, measuring two kilometers by 400 meters wide. That came back with the soil geochemistry of an anomalous gold-copper-moly, with up to 7.27 g/t gold, a classic text book type of porphyry signature that fits well with our massive geophysics signature.

The SkyTEM survey data allowed us to complete a 3-D model of what we believe to be a massive gold-copper-moly porphyry and the source of all the placer gold. This 3-D video model can be viewed on our YouTube channel, if anyone is interested in taking a look, as it's quite impressive. We have three very distinctive bodies that we believe to be the source of all that placer gold. You don't have to be a geologist to see that the watershed and the headwaters of the placer creeks start there and the gold is coming from somewhere. We all know that 6 ounce nuggets can't swim up-stream. There's really no other logical place, from which it is all coming, other than our drill target at the Prosperity Bullseye Zone. We are very excited about drilling that this year. Prior to drilling this summer, we will be doing additional geophysics to outline structure, IP, trenching, and mapping. We have a pretty good idea of where we want to drill, but this is going to guide us even further, as to where we want to set up the final drill pads.

Lucky Strike is ticking all the boxes. We have this 2000 by 400 meter soil grid that ran over seven grams gold, 500 ppm copper, 65 ppm moly, 50 ppm tungsten, 4 ppm antimony, and 10 ppm bismuth that is coincident with our classic geophysical porphyry signature 3D model that extends over 2500 x 1500 x 500 metres open at depth.

The initial grab samples from this area assayed up to 24.7 grams gold, 188 grams silver, two percent copper, six percent zinc and 8 percent lead. This is all in bedrock and polymetallic quartz veining, exposed at surface and not from float. We believe these samples are the by-product of when our porphyry target was initially formed.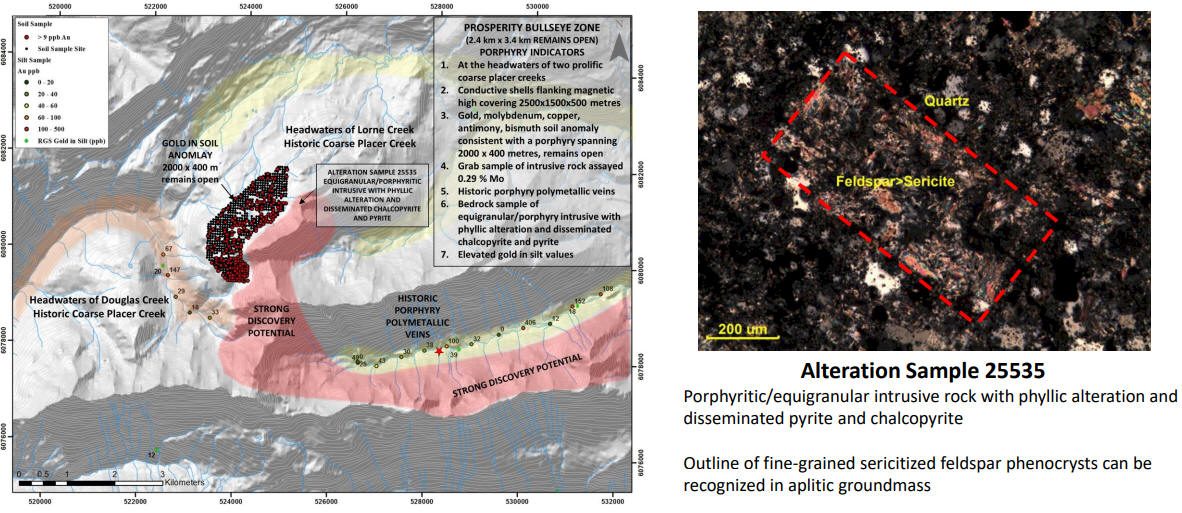 Dr. Allen Alper: Sounds excellent!

Roger Rosmus: We're also very excited about our Copperhead target. It has logging road access as well, it is three kilometers to the main power line, three kilometers to the main highway. It's about thirty-five some-odd clicks to Smithers, British Columbia. The area there is the Copper King trend, which is 2000 by 350 metres. We flew a SkyTEM survey in 2017 here as well, and came up with some pretty interesting stuff. What we're seeing at surface is massive and semi-massive sulfide volcanic breccias widespread over an area of 450 metres. What we have there is up to 7.97 % Copper over 45 gpt Silver at surface.

We did quite a few chip samples. They came back with excellent grades of copper and silver. They all started in mineralization and ended in mineralization, and open in all directions. This area is drill-ready as well for 2018. We have photos of this potassic alteration at surface, and photos of this eight percent copper on our web page and in our presentation. It's quite spectacular as you can clearly see the breccia from one of the samples that has been cut and polished. This project ticks all the boxes as well and know this one certainly has the interest of many senior mining companies in addition to our Lucky Strike project.
Our Chairman, Richard Groome a BA, has been around for quite some time. He sold his firm to Desjardins many years ago. He's done over 400 financings, representing about four billion in value over 30 years in business. He's the contact where I found the CPC shell from for Goliath's RTO. He brings great energy to the board, well connected in Canada and many parts of the world.

I've known my CFO, Graham Warren a CPA, CMA, for well over ten years now, as I initially met him from a company that I financed many years ago. He's a well-seasoned board member and CFO. Sam Ho, an MBA is our COO, and a partner of mine in the capital markets business. I hired him as a summer student when he was 17 and have worked with him well over 10 years. We also have Louis Peloquin a BBA, LLB who's an independent director, who was in-house counsel for Quebec Cartier, now ArcelorMittal. I've known him over a decade. We also have Michael Dehn a B.Sc. who's an independent director, whom I've known over ten years and extremely knowledgeable in the resource space. He has been in the business for over 25 years and has a lot of experience.

We have a great board for being able to react quickly and the depth to enter into discussions and complete any potential material business arrangements with senior companies.

I mentioned Bill Chornobay earlier, who has a track record of over 30 years delivering results and new discoveries that have raised over a billion in value. We have the best exploration team on the ground. In addition to the team, is Stefan Kruse a PhD, B. Sc., with over 35 years' experience. His expertise is in structurally controlled porphyry and PGE deposits. We also have Leon Daniels a Ph.D., B.Sc., who is an extremely valued advisor to the company.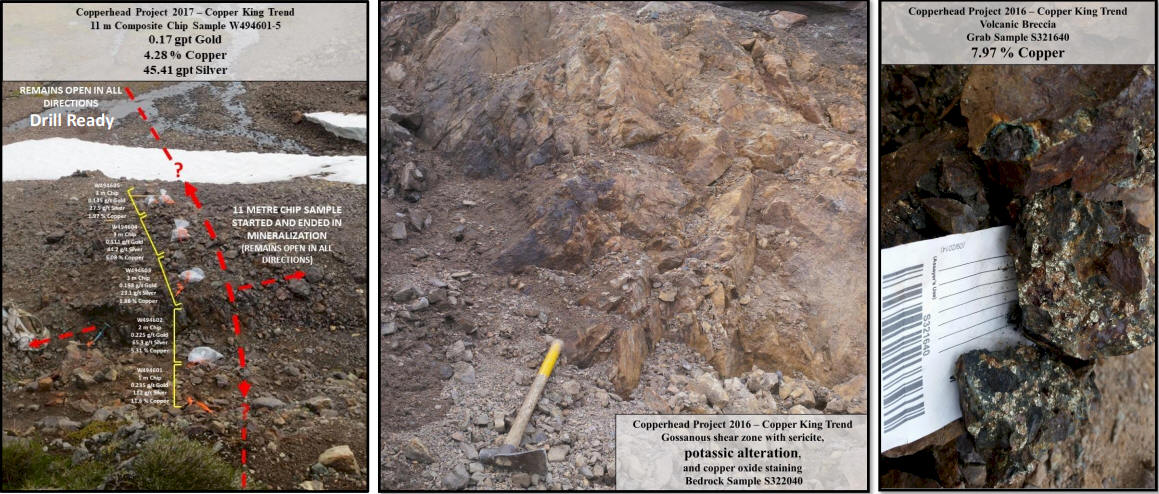 Dr. Allen Alper: Leon is a great guy.

Roger Rosmus: He's amazing. He actually has operated gold mines and put them together. He's a no BS kind of guy and calls it as he sees it.

Dr. Allen Alper: He's enjoyable to talk with and knowledgeable.

Editorial Insert of charts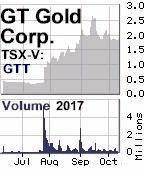 &
Charts (above) of GTT ($0.20 to $2.76) and GGI ($0.12 to $5.27)

Roger Rosmus: Very knowledgeable, for sure. A lot of the folks ask me why they should be investing in Goliath. I see a couple of quotes out there from investors like Rick Rule. They're looking to invest in the early stage exploration companies, particularly prospect generators, which is what Goliath is. Also I know Eric Sprott continues to support certain companies in the triangle. He has personally invested over 35 million dollars to date. I know for a fact we're in the right spot and the timing could not be any more perfect. This has been demonstrated by investors paying substantially for new discoveries, with the successes of GT Gold Corp (TSX-V: GTT) in 2017. It was $0.22 before they drilled and hit a high of $2.76 once they validated their porphyry. That was almost a 13 bagger if you sold at the peak. Then the other one is obviously Garibaldi Resources, (TSX-V: GGI). That went from $0.12 cents before drilling their breccia outcrop, with widespread mineralization, and went up to $5.27 once they validated their source. That was about a 44 bagger if you sold at the top. GGI has a market cap today of roughly 79 million dollars and GGI's is 330 million dollars. Our market cap currently is 21 million dollars.

So I looked on Sedar to see what GT Gold and Garibaldi had in 2017, prior to both companies drilling their targets. GT Gold Corp had a large, high grade soil anomaly at surface with a market cap of about 26 million dollars. Before Garibaldi drilled, they had a breccia outcrop with widespread mineralization with a market cap of roughly 14 million dollars.

Goliath will be drilling two targets this year, one is similar in nature to GT Gold's porphyry and the other is similar in nature to Garibaldi's breccia outcrop at surface. We have the best of both words for potential success on the drill bit this year on two outstanding targets. We have a high-grade soil grid anomaly at Lucky Strike, about the same size or bigger, based on what I read in GTT's 43-101 report. As well, we have a breccia outcrop with widespread mineralization at Copperhead. I have looked at the combined values of GT Gold and Garibaldi before they drilled, and it was about 40 million dollars. Goliath is currently trading around a 21-million-dollar market cap at 25 cents. Considering the two targets we have, I strongly believe we're extremely undervalued based on what we know about our targets the combined values of GTT and GGI and the drilling campaign for 2018. We recently traded over 8.8M shares over two days up $0.325 and third highest volume on the TSX-V. The trading volumes have been picking up and the share price has excellent momentum.

When we raised that 2.2 million dollars in 2017, we just had grab samples. We didn't have drill targets, the SkyTEM survey or a large amount of soils and/or channel cut results. Coming out of the 2017 program, we came out with great chip samples, channel cuts, soil samples, geophysics and the two compelling drill targets for 2018 already mentioned. I'm surprised that we're still trading here based on the two peers mentioned. We just closed an oversubscribed financing of over 3 million dollars at 11 cents for the non-flow-through, and the flow-through at 15 cents.

A lot of the investors, were primarily mining engineers, geologists and seasoned resource funders. We also had a number of institutional resource funds participate from Germany and Canada. They all have the same conclusion; we have a one of a kind and very unique basket of assets that you don't see every day. We are drilling new discoveries, and they all are very familiar with Garibaldi and GT Gold. They are believers along with me that we're going to have similar successes coming out of our 2018 drill program.

Just to continue on Goliath's low valuation compared to its peers, we haven't even talked about the other two projects in the Golden Triangle that are as good as Lucky Strike and Copperhead. Our Golddigger and our Bingo projects are pretty amazing as well. There is so much information that I could talk about it for hours, but the highlights for this year are the drill targets. Drilling is going to get the volumes on the stock going higher and create shareholder value by validating and confirming the sources of our two highly mineralized zones.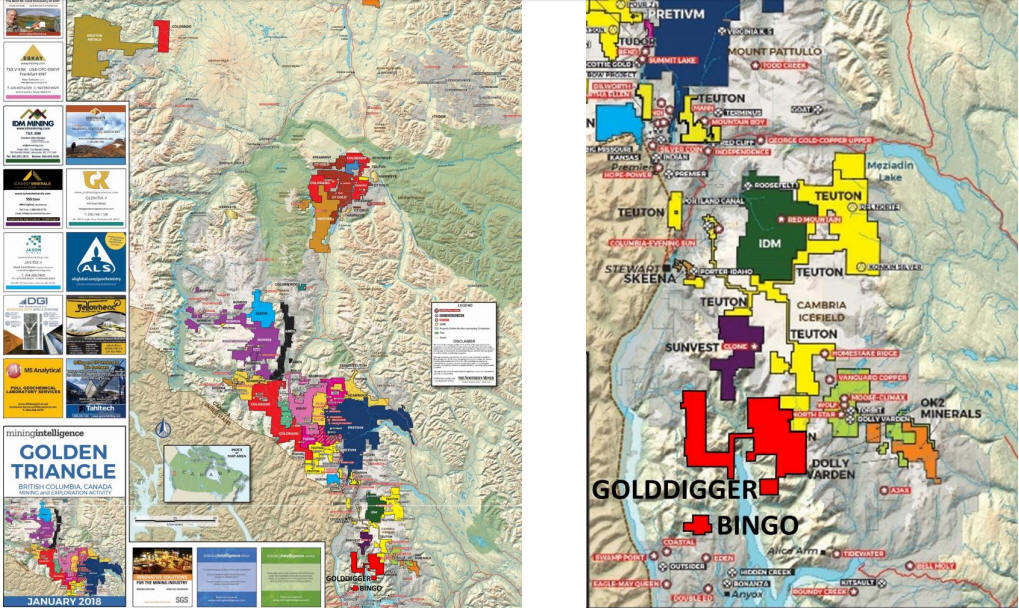 Dr. Allen Alper: Sounds great. Sounds like very strong reasons why our high-net-worth readers/investors should consider investing in your company?

Roger Rosmus: I ask all the time, if you would like to buy another Garibaldi and or GT Gold today before they drilled. Everyone says yes, so I if you did buy those two, or perhaps missed that investment you've got another opportunity with Goliath, based on our current share price.

Dr. Allen Alper: That sounds very good. Is there anything else you would like to add?

Roger Rosmus: Our team is amazing. I wouldn't be in this position without them. I owe pretty much everything to Bill and the team around him, and obviously my well-seasoned board. We have solid management, and the bottom line is the rocks speak for themselves. You can't make this stuff up like some of this clepto-currency or the marijuana madness that's going on out in the markets. We have real stuff, brand new-high grade mineralization at surface that Mother Nature has exposed for us. I imagine there's going to be a huge staking rush, or perhaps it already has started, once we've completed our programs because a lot of this area didn't get much attention in the past. The attention has mostly been within the Golden Triangle. We've gone where everyone thinks the world is flat, and we're going to prove that it is round. On our web page, readers can view detailed information on all of our projects, we have all the models, photos, videos, et cetera, if readers want to get additional information. They can also reach me at +1.416.488.2887 x222 should they have any additional questions.

Dr. Allen Alper: That sounds very good. In my opinion, these are definitely projects to consider.

https://goliathresourcesltd.com

Roger Rosmus
Chief Executive Officer
roger@goliathresources.com
+1-416-488-2887 x222

...click here for full copy from source