Sector NewswireTM
Sector: Mining - Metals and Minerals :
News Release - February 19, 2016 4:36 PM ET
New Carolin Gold Corp. Approved to Acquire 100% of Ladner Gold Project from Receiver for Century Mining Corporation (Past Owner)
NEW YORK, NY, February 19, 2016 /Sector Newswire/ - New Carolin Gold Corp. (TSX-V: LAD) (OTC: MDULF) announced news this last week that it has received approval from Quebec Superior Court of its arrangements to acquire 100% of the Ladner Gold Project. The Ladner Gold Project is located only 150 km East of Vancouver, BC, Canada, in the Coquihalla Gold Belt. New Carolin's Ladner Gold Project hosts 5 past producing mines and a high-grade underground historic (non 43-101) resource at the Carolin Mine of 728,429 gold ounces (affirmed by Century Mining's 2009 estimate of potential quantity: 5+ million tonnes grading 4.2 - 4.8 g/t gold, or ~1 million tonnes grading 8 - 9 g/t gold) -- the Company currently has an inferred resource on the property in excess of 600,000 ounces (although lower grade until confirmation drilling is performed) that it is in the process of improving upon. LAD.V is advancing with plans to bring this historic gold resource compliant, and also prove-up the larger multi-million oz high-grade mesothermal Bralorn/Motherlode-type model potential.

LAD.V's current market capitalization is ~$8 million (~88.7M shares outstanding X ~9 cents (~123M fully diluted, we estimate there will be 164,761,213 shares outstanding fully diluted after the current private placement to close off 100% acquisition is completed)). Bringing the 2009 estimate of potential quantity into resource will give LAD.V immediate intrinsic value worth several times the current market cap. Shares of LAD.V are poised for upside revaluation as the inherent value and accomplishments are appreciated by the market, and apt to respond in multiples as gold retrenches and strengthens.
The Ladner Gold project is a highly coveted asset, and due to its desirability the property was essentially in abeyance for several years; despite LAD.V originally only having 10% ownership (now 40%), LAD.V was the controlling operator and owned 100% of the salient pieces that made the property functional to LAD.V alone (mine permit, environmental bond, roads, water licenses, etc.), the receiver for Century Mining (60%) and related Tamerlane (30%) held the balance. New Carolin Gold Corp. is at an improved level of relationship with the receiver for Century Mining, whom we believe is Deutsche Bank. The improved relationship will see LAD.V increase its ownership of the Ladner Gold Project to 100% and enable LAD.V to facilitate the exploration and development of the Ladner Gold Project. The receiver has acquiesced and the relationship is cooperative; the transfer of Tamerlane's interest to LAD.V in September-2015 marks a turn in the relationship -- LAD.V now owns 40% and the February 3, 2016 news release confirms there is an agreement in place whereby LAD.V only needs to provide a nominal amount to Deutsche Bank in return for the remaining 60%, additionally Deutsche Bank has agreed to allow that money be applied towards exploration in exchange for 20,000,000 shares (at which time it will become the largest shareholder of LAD.V -- LAD.V has already advanced a block of shares as part of this payment). The February 17, 2016 new release confirms the court has approved the arrangement to proceed. A nominal capex of $1M appears sufficient for LAD.V to push the project into 1 million - 1.5 million ounces gold with a mineable grade, this high-impact/low-cost program is facilitated by the high standard of historical drilling and associated database (700+ holes, ~50,000 m). There is also potential to prove up a new major gold zone adjacent the Carolin Mine in the process.

Recent (February 17, 2016) news from New Carolin Gold Corp.:
Approval of Amendments to Acquisition Agreement – Ladner Gold Project
TheNewswire / February 17, 2016 - New Carolin Gold Corp. (the "Company" or "New Carolin") (TSXV: LAD) announces that further to Company's press release of February 3, 2016, regarding the acquisition of the remaining assets held by the receiver of Century Mining Corp, that the hearing was held February 10, 2016 and the Quebec Superior Court has since granted the order approving the amendments to the acquisition agreement entered into with the Receiver of the assets of Century Mining Corp.

The granting of this order is the final leg in respect to allowing the Company and the receiver of Century Mining Corp. to facilitate the completion of the acquisition process.
....click here for full copy from source
Recent (February 3, 2016) news from New Carolin Gold Corp.:
New Carolin Amends Agreement to Acquire 100% of Ladner Gold Project
TheNewswire / February 3, 2016 - New Carolin Gold Corp. (the "Company" or "New Carolin") (TSXV: LAD) is pleased to announce that the Receiver of the assets of Century Mining Corporation ("CMC") has agreed, subject to the authorization of the Superior Court of Quebec, to amend the acquisition agreement (the "Agreement") announced by the Company on August 27, 2014 whereby the Company can purchase the remaining ownership interests of CMC in the Ladner Gold Project (the "Project") in southwestern British Columbia. To date the Company has acquired 40% of the Project with an undivided 60% interest remaining with CMC.

The Receiver has now agreed that the amount of the financing to be completed by the Company as a condition precedent to the transaction will be reduced to $1,500,000, with $600,000 required to be spent on the exploration and development of the Project. Of this reduced requirement, the Company has raised $980,000 to date, leaving a balance of $520,000 to meet this condition.

With respect to the funding requirement and to secure additional exploration and working capital, the Company announces a proposed offering of up to 23,000,000 units in its capital stock for gross proceeds of up to $1,150,000 (the "Offering") in a combination of flow-through units ("FT Unit") and non-flow-through units ("NFT Unit"). Both FT and NFT Units are priced at $0.05, and will consist of one common share and one common share purchase warrant ("Warrant"). Each Warrant will have a two year term with an exercise price in year one of $0.07 per share and year two of $0.08 per share. Common shares delivered as part of the FT Unit will be designated as flow-through shares ("FT Share") pursuant to the Income Tax Act (Canada). The proceeds from the sale of FT Units will be used to fund qualified CEE work on the Company's exploration program at the Project. Warrants issued, whether with FT or NFT Units, will not have flow-through attributes nor be exercisable for common shares with flow-through attributes. Proceeds from the sale of NFT Units will be used for general working capital. Finder's fees may be paid in connection with the Offering. All securities issued in connection with the Offering will be subject to a four-month plus one day hold period from the closing of the Offering.

The original terms of the Agreement provided that the shares issuable to the Receiver, as consideration for the property interest being acquired, be limited to up to 20,000,000 shares. As consideration for the Receiver's agreement to amend the terms of the Agreement and accelerate closing, the Company has agreed that the shares issuable to the Receiver will be, immediately after issue of same (including the common shares issued under the Financing or in connection with any other conditions to the transaction outlined in the Agreement), together with all other shares of the Company then held by the Receiver, equal to 19.9% of the common shares of the Company then issued and outstanding.

The Receiver has further agreed to reduce to $400,000 the Company's accounts payable and accrued liabilities which it is required to settle as a condition precedent to the closing of the transaction. In this regard, the Company has recently settled over $400,000 in debt.

In addition, the Company has also agreed with the Receiver, as a condition of closing, to obtain an agreement from one of the Company's creditors to amend the terms of a recent secured loan for $200,000, so that such loan shall not come due and payable until December 31, 2016. The Company has secured this agreement.

Other closing conditions include receiving TSX Venture Exchange approval, in addition to obtaining an order from the Superior Court of Quebec authorizing such amendments.

The Company has spent the past 3½ years working to complete this acquisition and looks to re-energize its activities after having overcome many hurdles and poor market conditions. Upon acquiring the remaining interests of the Project, the Company believes the investment community following it will finally be able to measure and attribute value in keeping with the Company's assets. The Company looks forward to concluding the acquisition process and executing its plans at the Ladner Gold Project.

About New Carolin Gold Corp.
New Carolin Gold is a Canadian-based junior company focused on the exploration, evaluation and development of 144 sq. kms of contiguous mineral claims, collectively known as the Ladner Gold Project. The Project is located near Hope, BC, in the prospective and under-explored Coquihalla Gold Belt, which is host to several historic small gold producers including the Carolin Mine, Emancipation Mine, Pipestem Mine and numerous gold prospects. For additional information, please visit the Company's website at www.newcarolingold.com
....click here for full copy from source
Past production, development, and exploration on the Ladner Gold Project

The property has been producing gold since 1890, there are numerous high-grade artisan workings along the fault line that runs the length of the 28 km-long property, mostly they were chasing very high-grade surface showings, some up to 120 - 130 oz/tonne. Meaningful exploration and development of the property started in 1975 with a mining company that drilled out the Carolin Ladner Gold Project and put it into production in 1982 -- unfortunately gold prices were uncooperative; when they drilled they were at near-$800/oz gold and when they got the mine into production gold was at $400/oz and heading the wrong way. The project had terrific headgrades (near-5 g/T) but the operators were deficient in their mill set-up and operating skills, attaining only near-30% recoveries for the first ~3/4 of their operation before upgrades yielding ~60% recoveries -- this has serendipitously set-up an opportunity for the current owners of the property as the tailings are richly-laden in gold and readily exploitable. Athabaska Gold explored and developed underground in the mid-90's with the intent of blocking-out a solid mineable grade and released a resource estimate in 1997:

| | | | |
| --- | --- | --- | --- |
| Resources | Tonnes | Grade g/T | Ounces |
| Measured: | 1,124,040 | 4.31 | 155,775 |
| Indicated: | 1,393,460 | 4.28 | 191,768 |
| Total M& Indicated: | 2,517,500 | 4.29 | 347,543 |
| Inferred: | 2,569,540 | 4.61 | 380,886 |
| Total/All Categories: | | | 728,429 |

* This resource estimate pre-dates NI43-101 standards

Figure 1 (right) - Carolin Mine model derived from current drill hole database; the blue represents mined out areas and the red represents gold assays of minimum 1.0 g/t and higher.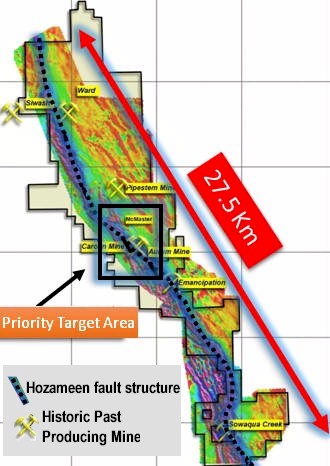 Figure 3. Mineralization/Geological Model - 5 Historical Mines & 30 known gold showings along fault.
Athabaska Gold spent ~$3.5 million proving up new ounces and defining high-grade areas they could mine, but by the time they were looking to raise money to put the Carolin back into production gold was down in the $300 range heading toward $250. Tamerlane and its sister company Century Mining picked-up the property to take the Carolin Mine to production but it got financially spread thin and bogged down elsewhere. LAD.V stepped in late in the game just prior to the receiver getting involved and got its foot in the door.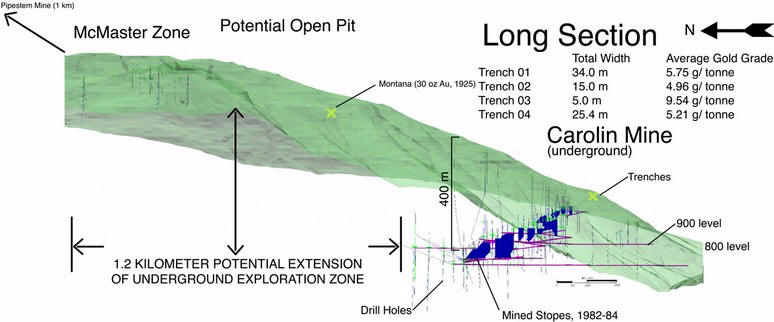 Figure 2. (above) large potential resource growth between McMaster and Carolin Mine
Ability to add significant ounces: The Carolin Mine mineralized zone is open in all directions, the underground workings are dry, and fully accessible. A mine development map from 1981 shows level 800 being extended north for 1.2 km to the McMaster Zone, this was never performed, however this area between is highly prospective for additional ounces. Most of the drilling to date on the project has been to expand existing mining that originated from surface showings (chasing the known mineralized structure), the project has received next to nothing (only been drilled sporadically & nominally) for exploration and remains largely untested even in obvious areas where confidence is high something major geologically has occurred. The McMaster zone has a heavily discounted current resource of ~79,540 oz with over half the existing resource at ~2+ g/t and near surface, but the bigger story is in what the confirmation drilling on Carolin & McMaster and other new targets will yield; it is theorized the McMaster has the potential to rival and surpass the historical Carolin figures in size and grades. All drill holes on the project to date have been relatively short (nothing more than ~200 m) and all have intersected gold.
The geological model and local structures at Ladner Creek are comparable to Bralorne (4M oz) & Motherlode (7 million oz producer) mining camps: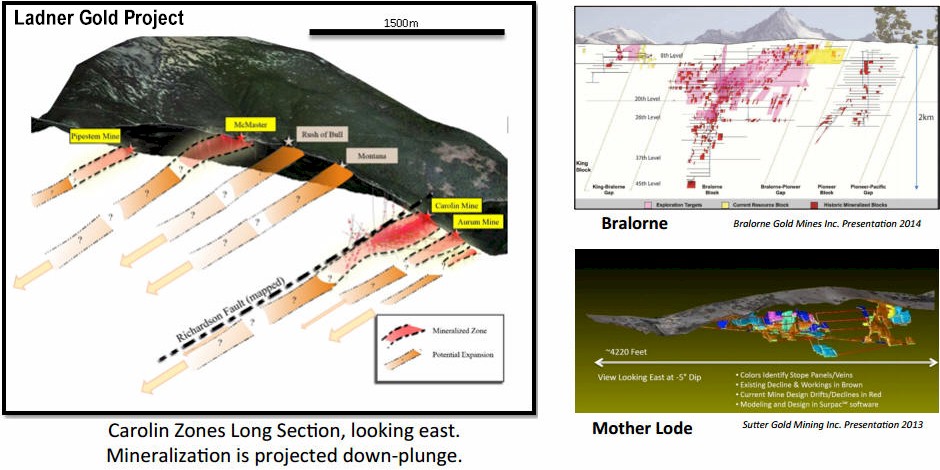 The Hozameen fault runs along the length of the Ladner Gold Project: All the mineralized gold zones on New Carolin's Ladner Gold Project appear to be like streams coming from the fault to surface; 30 degree-angled down-dipping stacked zones. High priority target areas LAD.V has identified are expected to affirm Ladner Gold Project has similar geological makeup to a high-grade shale-based mesothermal Bralorn/Motherlode-type model. The theory is there is a brand new zone running between 1.5 - 3 km that needs to be drilled. Confirming a new major gold zone will demonstrate multi-million ounce large-scale exploration potential of the model -- if so, there could be potential for 10 - 20 million ounces on the property.
Recoveries of up to 94.5% possible: Metallurgical test work of core taken from the McMaster Zone (DDH 32-09; 3.96 g/t gold over 27.6 m from 32.4 to 60.0 meters) indicates overall gold recoveries of up to 94.5% possible. Pressure-oxidation and carbon-in-leach has shown recoveries of 96.3% on floatation concentrate. Using floatation, pressure oxidation and cyanidation of the floatation tailings returned overall recoveries of 94.5%.
Tailings resource to be sold/leveraged:
| | | |
| --- | --- | --- |
| Figure 5. Carolin Mine in production, 1984 | Figure 6. Tailings impoundment facility, drain ~12 feet off and you could drive a truck onto it. | Figure 7. Gold-laden tailings sample |
| | |
| --- | --- |
| The tailings impoundment host a homogenous resource that is readily accessible and is actively being marketed for sale to generate capital so Company may advance the Ladner Gold Project without share dilution. 69 holes were drilled into 60% of the tailings establishing a resource of 404,000 tonnes Indicated grading 1.83 g/t (~24,000 contained oz gold) and 84,400 tonnes Inferred grading 1.85 g/t (~5,000 oz gold). Naturally we can logically deduce there is probably ~40,000 ounces since only 60% was drilled. Also we note historical production records show the mine put through ~85,000 ounces of gold material yet only ever sold ~44,000, so that leaves 41,000. LAD.V has several options, however the preferred is to sell the tailings outright to a the 3rd party that will process it, at current gold prices we estimate this should net in excess of $10 million (after capex & opex) over a 4 year timeframe -- a discounted sale price now has the potential to generate between $2 - $3 million to New Carolin Gold Corp. | Figure 8. Gold bar from past production at Carolin Mine, close to half the gold contained in material processed at the time still remains in the tailings awaiting reprocessing. |
Sector Newswire has identified the following research links for additional DD on New Carolin Gold Corp.:
This release may contain forward-looking statements regarding future events that involve risk and uncertainties. Readers are cautioned that these forward-looking statements are only predictions and may differ materially from actual events or results. Articles, excerpts, commentary and reviews herein are for information purposes and are not solicitations to buy or sell any of the securities mentioned.
SOURCE: Sector Newswire editorial
* The current Carolin Mine Inferred Mineral Resource is reported, at a 2.0 gpt gold cutoff grade, as 2,589,000 tonnes grading 3.34 gpt gold (estimating a total gold resource of 278,000 oz). A second Inferred Mineral Resource was estimated as well, at a 0.5 gpt gold cut-off grade, to reflect open pit mining potential. This estimate was 12,132,000 tonnes grading 1.53 gpt gold and containing a total gold resource of 607,000 oz.
The current McMaster Zone Inferred Mineral Resource is reported at a 0.5 gpt gold cut-off grade to acknowledge it's open pit potential. This estimate was 3,575,000 tonnes grading 0.69 gpt gold and containing a total gold resource of 79,540 oz.
The current Tailings deposit Indicated Mineral Resource estimate is reported, at a 1.0 gpt gold cut-off, as 445,000 tons grading 0.053 oz/ton gold and containing 24,000 oz. gold. The current Inferred Mineral Resource for this deposit, at the same 1.0 gpt gold cut-off, is 93,000 tons grading 0.053 oz/ton and containing 5,000 oz. gold.
Any reference to recourses that are "historic (non 43-101)" and any references to "estimate of potential quantity" are not to be relied upon for investment purposes; the Historic (non-43-101) Athabasca Gold resource was 1,124,040 t at 4.31 g/T Measured, 1,393,460 t at 4.28 g/T Indicated, 2,569,540 t at 4.61 g/T Inferred. The Century Mining 2009 estimate of potential quantity is referenced from a May-2015 Technical Report filed on SEDAR.
Additional Disclaimer and Disclosure I Contact I Terms and Conditions I Copyright I Privacy Policy