Sector NewswireTM
Sector: Mining, Energy, Industrial, Transportation :
News Release - January 26, 2018 15:38 ET
SRG Graphite Inc. Advancing Cobalt-Nickel-Scandium Deposit Toward Maiden Resource, and Advancing Toward Scoping Study on World-Class Graphite Deposit, Guinea, West Africa
NEW YORK, NY, January 26, 2018 /Sector Newswire/ -- SRG Graphite Inc. (TSX-V: SRG) this week announced the resumption of activities at its cobalt-nickel-scandium project located on SRG's 100%-owned Lola Property in the Republic of Guinea, West Africa. The Company is expected to file a maiden cobalt-nickel-scandium mineral resource estimate in H1 2018.
SRG is juxtaposing the advancement of two deposits of significance at the Lola Property; besides the cobalt-nickel-scandium deposit, SRG's flagship asset is its graphite deposit which was recently the subject of an initial resource estimate. The graphite asset forms one of the largest surface outlines in the world; property highlights include 3.22km2 of surface graphite mineralization, 89% large - super jumbo flakes, with no impurities. The maiden graphite Resource Estimate came from focused drilling of one small section (representing only ~15%) of the overall deposit, and includes an initial pit-constrained indicated resource of 4.0 million tonnes ("Mt") grading 5.7% graphitic carbon ("Cg") and an inferred resource of 4.6 Mt grading 6.5% Cg, using a cut-off grade of 3.0% Cg. This news falls on the heels of news of the results of electrochemical characterization of its spherical purified graphite ("SPG") material produced from the Company's Lola graphite deposit, and news of the Company signing a Memorandum of Understanding for it to supply graphite concentrate to Great Lakes Graphite. The MOU specifies that the Companies will seek to negotiate an agreement for the annual supply of between 5,000 and 20,000 tons of natural flake graphite concentrate.
Weathering advantage of top ~20 m; Favorable weathering action over million of years has expunged organics from top layer, and freed graphite flakes from the silicate gangue allowing for easy grinding with optimal recovery.

Grade advantage; Metallurgical tests on representative surface samples have yielded grades up to 20% carbon with no impurities.

Quick-to-market; Company is fully capitalized to rapidly and cost-effectively advance the project to PFS, followed with Feasibility by mid-2018.

Experienced & accomplished management team, skilled technical leadership, in stable mining-friendly jurisdiction, with no environment or infrastructure issues.
------ ------ ------ ------ ------ ------ ------ ------ ------
Excerpt of SRG's January 23, 2018 news release regarding its Cobalt-Nickel-Scandium Gogota Project:
[NOTE: Cobalt prices have experienced surging demand from the electric vehicle (EV) sector and prices are forecasted to remain strong.]
SRG Reports on Its Cobalt-Nickel-Scandium Gogota Project

MONTREAL, Jan. 23, 2018 (GLOBE NEWSWIRE) -- SRG Graphite Inc. (TSXV:SRG) ("SRG" or the "Company") today announced the resumption of activities at the cobalt-nickel-scandium project, known as the Gogota deposit at the Company's Lola Project in Guinea. SRG will be resuming activities on the Gogota deposit and expects to file a National Instrument ("NI") 43-101 compliant maiden mineral resource estimate in H1 2018.

SRG acquired the Lola project from Sama Resources in a transaction in 2016. The Gogota deposit was discovered during a regional exploration program carried out over portions of the Lola project in 2013 (reference Sama Resources' press release dated March 7, 2013).

Of the 51 vertical drill holes carried out over the Gogota Deposit, 31 were drilled over a 200-meter by 400-meter grid and 20 were drilled over a 200-meter by 200-meter grid. The first phase of samples from 31 drill holes representing 800 samples were sent for analysis and returned significant cobalt ("Co"), nickel ("Ni"), and scandium ("Sc") results, among others. The second phase of 20 drill holes representing 425 samples, which are still pending, have been sent to the lab for analysis.

"We are very optimistic about the potential of the Gogota deposit," said Marc-Antoine Audet, President and Chief Executive Officer, SRG. "We are looking forward to receiving the additional results and moving forward with the maiden resources."

Combined Mineralized Interval Highlights (True Widths)
HOLE-ID
From*
Length
Co
Ni
Sc
Fe
MgO
(m)
(m)
(%)
(%)
(g/t)
(%)
(%)
GG34-800400
15.50
5.50
0.18
0.75
37.28
45.90
0.26
GG34-800800
2.00
18.20
0.19
1.43
45.06
52.19
0.38
GG34-800200
3.70
13.50
0.22
1.27
29.18
51.32
0.48
GG35-400600
4.00
20.80
0.15
1.41
29.62
53.42
0.60
GG35-400800
5.00
14.50
0.13
1.30
33.11
51.24
0.42
GG45-400200
6.00
10.00
0.13
1.19
30.00
48.02
0.33
GG44-800400
8.00
3.00
0.17
1.28
35.30
52.03
0.62
GG25-400200
4.00
14.50
0.18
1.52
31.73
53.29
0.30
GG25-400400
12.50
20.00
0.17
1.53
24.77
49.87
0.37
GG25-400600
7.00
16.00
0.16
1.36
29.88
50.14
0.76
GG25-400800
8.00
17.80
0.16
1.25
24.50
50.90
0.69
GG35-400200
1.50
6.90
0.13
1.58
40.30
44.14
2.73
GG35-400400
3.00
1.50
0.11
0.90
33.84
27.56
3.00
GG24-800800
2.10
12.00
0.24
1.16
32.63
48.08
0.49
GG24-400800
15.00
3.00
0.17
1.53
37.50
48.63
1.12
GG24-800600
6.00
23.00
0.18
1.27
39.14
51.63
0.40
GG24-800400
5.50
12.50
0.16
1.42
31.20
50.25
1.18
GG34-800600
0.00
14.10
0.17
1.39
23.95
48.09
0.61
GG44-800200
0.90
4.40
0.21
1.27
31.49
50.04
0.84
GG34-400200
4.00
2.50
0.14
1.16
30.00
42.41
0.92
GG34-400400
3.00
8.00
0.18
1.19
36.25
49.11
0.80
GG25-200400
8.50
14.00
0.21
1.45
36.43
49.57
0.45
GG25-200200
8.00
7.50
0.18
0.70
38.70
42.37
1.73
GG25-200600
2.30
7.40
0.15
0.95
38.91
41.86
0.58
*Measurements begin at surface.
Mineralized intervals defined using 0.10% cobalt cut-off grades.
Fe: Iron, MgO: Magnesium oxide, g/t: grams per tonne

Core logging and sampling were performed at SRG's facility in Gogota village. Sample preparations were performed by Bureau Veritas Mineral Laboratory's facility in Abidjan, Ivory Coast ("BVML"), and then dispatched by BVML directly to their assay laboratory, Inspectorate Metals and Minerals, in Rustenburg, South Africa. All samples were assayed for cobalt, nickel and all major oxides using peroxide fusion XRF. Scandium was determined by inductively coupled plasma optical emission spectrometry.

Compilation maps of Gogota are available on the Company's website or via the following links.
http://www.srggraphite.com/i/projects/Gogota/DiscoveryCobaltGogota1.png :

http://www.srggraphite.com/i/projects/Gogota/DiscoveryCobaltGogota2.png :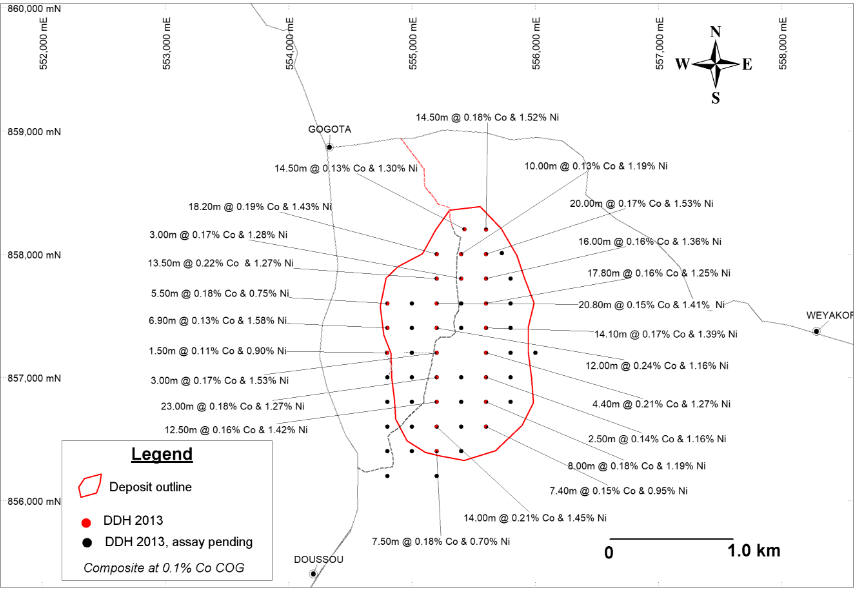 The technical information in this release has been reviewed and approved by Dr. Marc-Antoine Audet, P.Geo, President and CEO, SRG and a 'qualified person' as defined by National Instrument 43-101, Standards of Disclosure for Mineral Projects.

ABOUT SRG
SRG is a Canadian-based company focused on developing the Lola graphite deposit located in the Republic of Guinea, West Africa. SRG is committed to operating in a socially, environmentally and ethically responsible manner.

For additional information, please visit SRG's website at www.srggraphite.com.

For more information contact:

Benoit La Salle, Executive Chairman
SRG Graphite Inc.
Tel.: +1 (514) 951-4411

Dr. Marc-Antoine Audet, President & CEO
SRG Graphite Inc.
Tel.: +1 (514) 726-4158
Email: ceo@srggraphite.com ...
...click here for full copy of release from source
------ ------ ------ ------ ------ ------ ------ ------ ------
Excerpt of SRG Graphite's December 22, 2017 release on the maiden Resource Estimate on its graphite deposit:
SRG Graphite to File Maiden Mineral Resource Estimate for its Lola Graphite Deposit
MONTREAL, Dec. 22, 2017 (GLOBE NEWSWIRE) -- SRG Graphite Inc. (TSX-V:SRG)("SRG" or the "Company") is pleased to report its initial resource estimate for its 100%-owned Lola Graphite Deposit located in the Republic of Guinea. The mineral resource estimate, prepared by Montréal-based Met-Chem, a division of DRA Americas Inc. ("Met-Chem/DRA"), includes a pit-constrained indicated resource of 4.0 million tonnes ("Mt") grading 5.7% graphitic carbon ("Cg") and an inferred resource of 4.6 Mt grading 6.5% Cg, using a cut-off grade of 3.0% Cg.
Mineral resources were based on 170 boreholes for 4,936 meters drilled prior to September 30, 2017. Since that time, an additional 100 diamond drill holes were completed, totaling approximately 7,200 meters. Assay results for these additional holes are pending.
The Company has planned an additional 6,000 meters of drilling, scheduled to take place in 2018.
SRG will file an NI 43-101 technical report supporting the mineral resource estimate to SEDAR within 45 days of the issuance of this press release.
"The Met-Chem/DRA resource estimate demonstrates the exceptional potential of the Lola project and marks yet another significant milestone for the Company," said Marc-Antoine Audet, President and Chief Executive Officer of SRG. Based on the foregoing results, the Company has decided to review the scope of the ongoing preliminary economic assessment launched in September.
Resource Summary
The mineral resource for the Lola project incorporates assay results from 170 diamond drill holes representing 4,936 meters, as well as 1,326 meters of surface channel sampling. The maiden resource is established for the oxide profile of the deposit, from surface to a depth ranging between 20 and 50 meters with an average thickness of 32 meters. The mineralization continued at depth within the fresh rock material. The area for the maiden resources covers approximately 18% of the deposit's 3.2-square-kilometer surface area.
The estimate was prepared using a block model constrained with 3D wireframes of the principal mineralized domains. Values for graphitic carbon were interpolated using Ordinary Kriging (OK) interpolation methodologies on 10 × 10 × 2m blocks. A preliminary open pit optimization algorithm was run on the estimated grade block model to constrain the resources and to support the Canadian Institute of Mining, Metallurgy and Petroleum's ("CIM") requirement that mineral resources have "reasonable prospects for eventual economic extraction." Only mineralization contained within the preliminary pit shell has been included in the resource estimate.
The base case mineral resource estimate is summarized in the following table at a cut-off grade of 3.0% Cg per tonne ("t") together with estimate sensitivities at 1.23% Cg/t and 5.0% Cg/t. The resource estimate and sensitivities scenarios are established with data from boreholes drilled by September 30, 2017.
Table 1: Lola Graphite Project Maiden Mineral Resources at a cut-off grade of 3.0% Cg and sensitivities at 1.23%Cg and 5.0% Cg cut-off grades of CG.
Base Case Mineral Resources

Cut-off-grade

Classification

Tonnes

Cg

In situ Cg

Cg %

t

%

t

3%


Indicated

3,961,417

5.66

224,118

Measured

Total Ind. & Meas.

3,961,417

5.66

224,118

Inferred

4,616,787

6.45

297,783

Sensitivities

Cut-off-grade

Classification

Tonnes

Cg

In situ Cg

Cg %

t

%

t

1.23%


Indicated

6,825,820

4.19

285,802

Measured

Total Ind. & Meas.

6,825,820

4.19

285,802

Inferred

7,563,830

4.76

360,038

Cut-off-grade

Classification

Tonnes

Cg

In situ Cg

Cg %

t

%

t

5%


Indicated

1,860,404

7.70

143,168

Measured

Total Ind. & Meas.

1,860,404

7.70

143,168

Inferred

2,413,469

8.71

210,213
Notes:
CIM definitions (May 10, 2014) observed for classification of mineral resources.

Block bulk densities interpolated from specific gravity measurements taken from core samples.

Resources are constrained by a Lersch Grossman (LG) optimized pit shell using MineSight software.

Pit shell defined using 30-degree pit slope, $1,300/t of concentrate (94.6% Cg grade), $2.00/t mining costs, $8.54/t processing costs, and $3.50/t G&A and $175/t of concentrate for transportation costs.

Mineral resources are not mineral reserves and have no demonstrated economic viability. The estimate of mineral resources may be materially affected by mining, processing, metallurgical, infrastructure, economic, marketing, legal, environmental, social and governmental factors ("Modifying Factors").

Numbers may not add due to rounding.

Effective Date of Resource estimate is September 30th, 2017
About Met-Chem/DRA

Met-Chem, a division of DRA Americas Inc., was originally established in 1969 as a consulting engineering company, headquartered in Montréal, and provides a wide range of technical and engineering services. Met-Chem is well-recognized for its capabilities in mining, geology and mineral processing and has a talented team of engineering, technical and project management personnel with experience in North America, Latin America, Europe, West Africa and India. DRA is a multi-disciplinary global engineering group that originated in South Africa and delivers mining, mineral processing, energy, water treatment and infrastructure services from concept to commissioning, as well as comprehensive operations and maintenance services for the mineral resources, water, agriculture and energy sectors. DRA has offices in Africa, Australia, Canada, China, India and the United States.

Qualified Person

Met-Chem/DRA's consultant, Ghislain Deschenes, P. Geo was responsible for estimating the mineral resources and has reviewed and approved the contents of this press release. Mr. Deschenes is a Qualified Person ("QP"), independent of SRG Graphite, within the meaning of NI 43-101 – Standards of Disclosure for Mineral Projects of the Canadian Securities Administrators.

The Lola Graphite Project is under the direct supervision of Marc-Antoine Audet, P.Geo., President and CEO, SRG, and a QP as defined by National Instrument 43-101. Mr. Audet has approved the scientific and technical content of this press release.

About SRG Graphite Inc. (SRG)

SRG is a Canadian-based company focused on developing the Lola Graphite Deposit, located in the Republic of Guinea, West Africa. SRG is committed to operate in a socially, environmentally and ethically responsible manner.

For additional information, please visit SRG's website at www.srggraphite.com.

For more information contact:

SRG Graphite Inc.
Dr. Marc-Antoine Audet, President & CEO
Tel.: (514) 726-4158
Email: ceo@srggraphite.com

Jean-Paul Blais
NXT Communications
Tel.: +1 (514) 867-7447
Email: jp@thenxtgroup.com

Neither the TSXV nor its Regulation Services Provider (as that term is defined in the policies of the TSXV) accepts responsibility for the adequacy or accuracy of this release.

Forward-Looking Statements

This press release contains forward-looking statements. Forward-looking statements involve known and unknown risks, uncertainties and assumptions and accordingly, actual results and future events could differ materially from those expressed or implied in such statements. Forward-looking statements include words or expressions such as "high-potential", "expects", and other similar words or expressions. You are hence cautioned not to place undue reliance on forward-looking statements. Additional information on these and other factors that could affect SRG's operations and financial results are included in reports on file with Canadian securities regulatory authorities and may be accessed through the SEDAR website (www.sedar.com).

...click here for full copy of news release from source.

SRG Graphite Inc. is poised for additional significant upside revaluation: SRG.V currently has a market cap of ~C$125 million (~58 million shares outstanding trading at ~$2.17/share, with no warrant pressure over its head (~65M fully diluted)), miniscule compared to other companies with meaningful graphite deposits in the world (see comparison further below) which SRG has advantages over in terms of quality. The share price is apt to appreciate as the Company accomplishes near-term milestones. SRG Graphite Inc., was recently formed (in January 2017) as a standalone Company to receive its flagship asset (the Lola Graphite Property) from Sama Resources (which is busy advancing its own flagship asset in another African country). Sama Resources retains ~43% of the outstanding shares of SRG after the spin-out and recent capitalization, Coris Capital out of Africa owns ~13%, and insiders own ~4% = ~60% in total in very strong hands.

We have identified the following research links for further DD on SRG Graphite Inc.

This release may contain forward-looking statements regarding future events that involve risk and uncertainties. Readers are cautioned that these forward-looking statements are only predictions and may differ materially from actual events or results. Articles, excerpts, commentary and reviews herein are for information purposes and are not solicitations to buy or sell any of the securities mentioned. Readers are referred to the terms of use, disclaimer and disclosure located at the above referenced URL(s).

SOURCE: Sector Newswire editorial

Additional Disclaimer and Disclosure I Contact I Terms and Conditions I Copyright I Privacy Policy